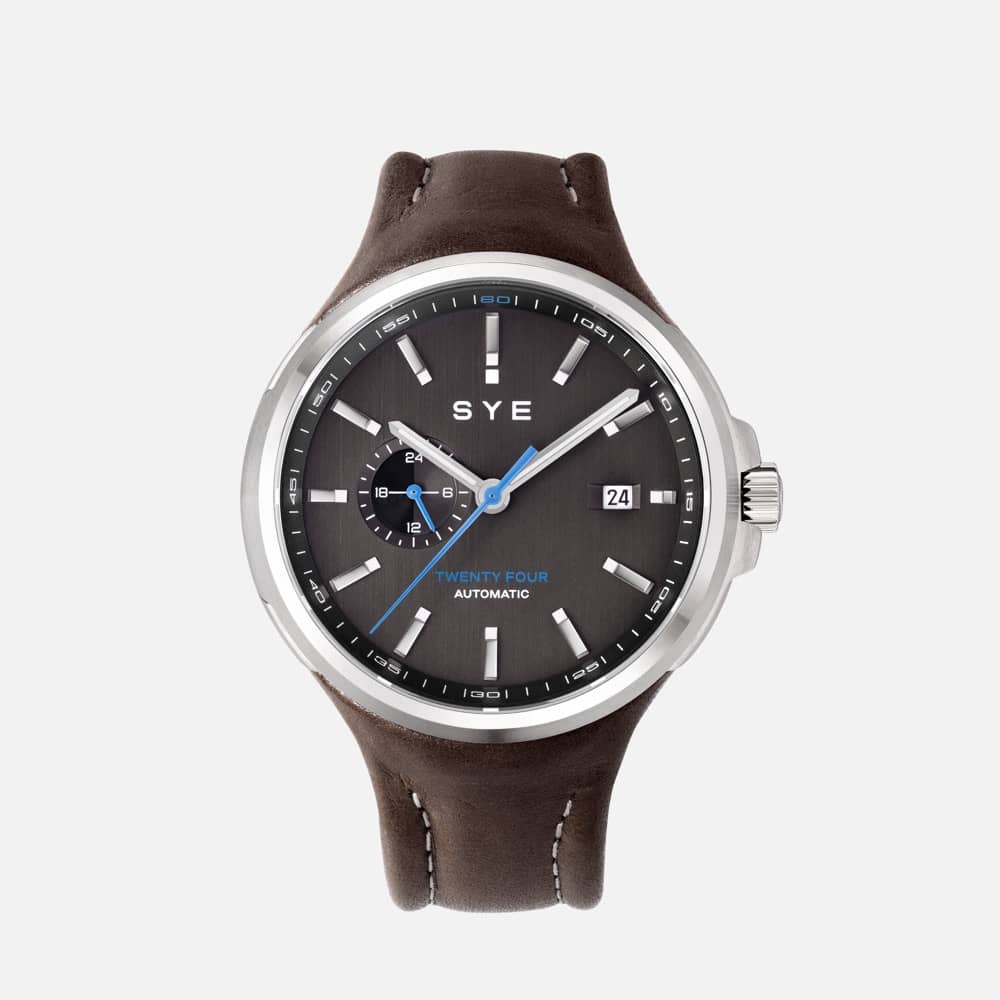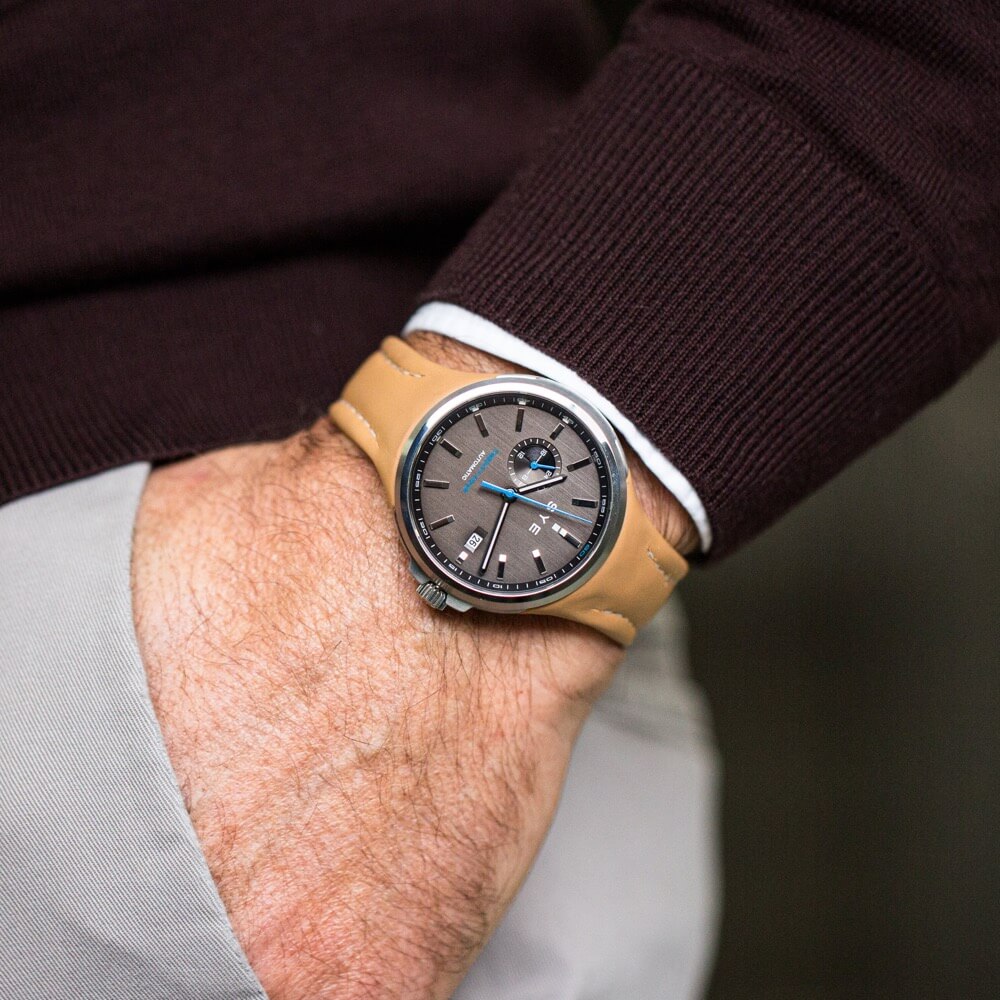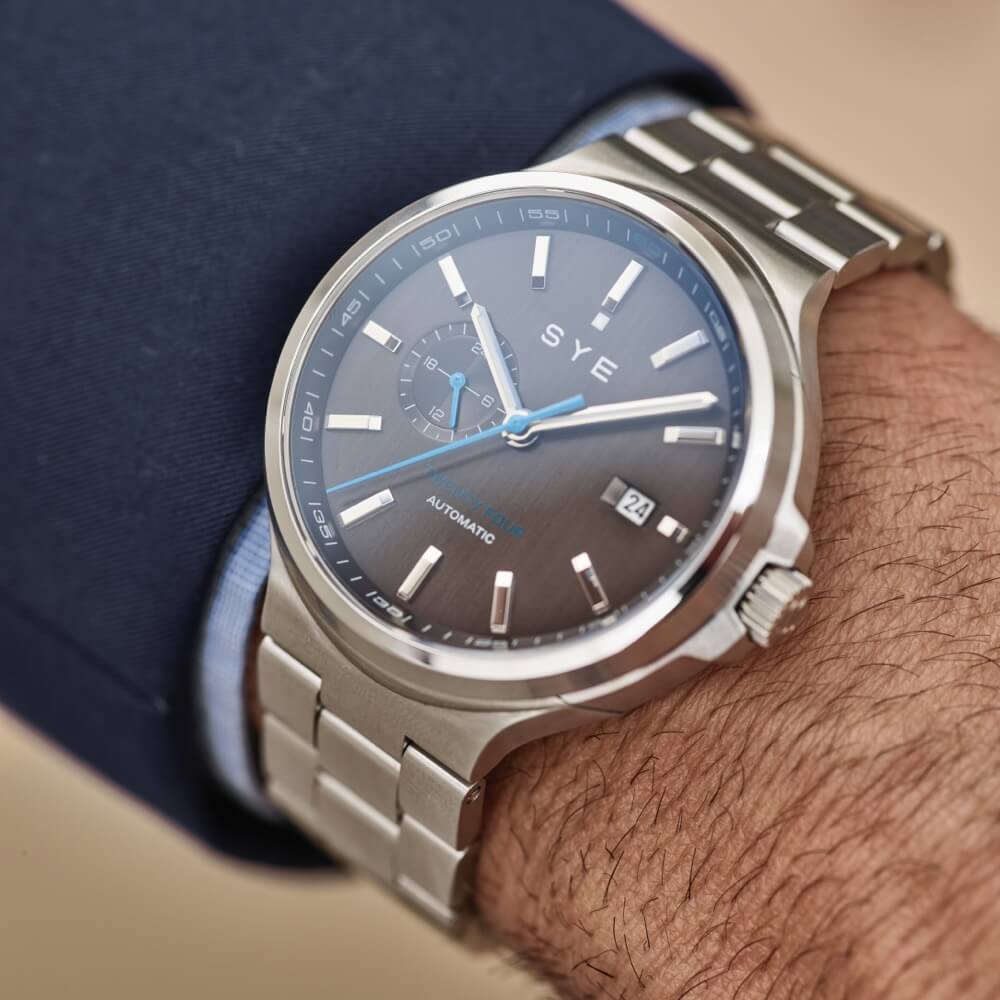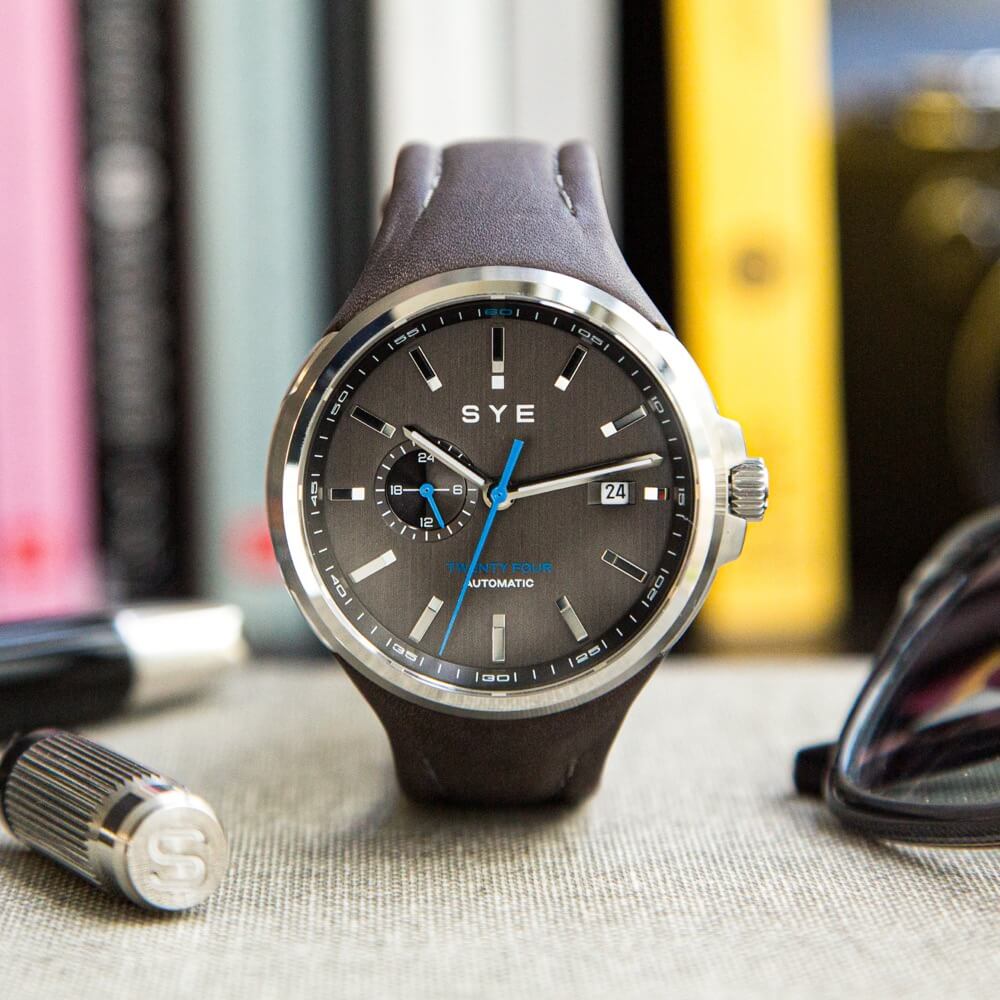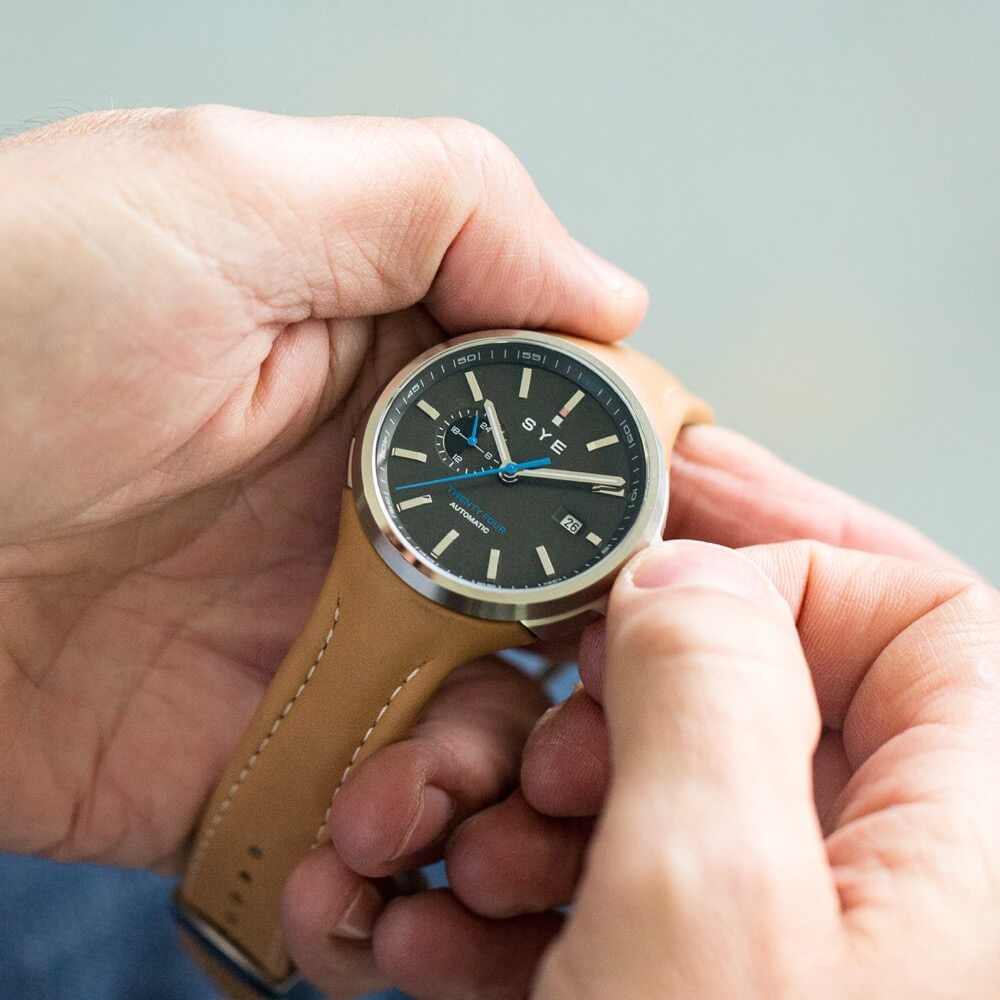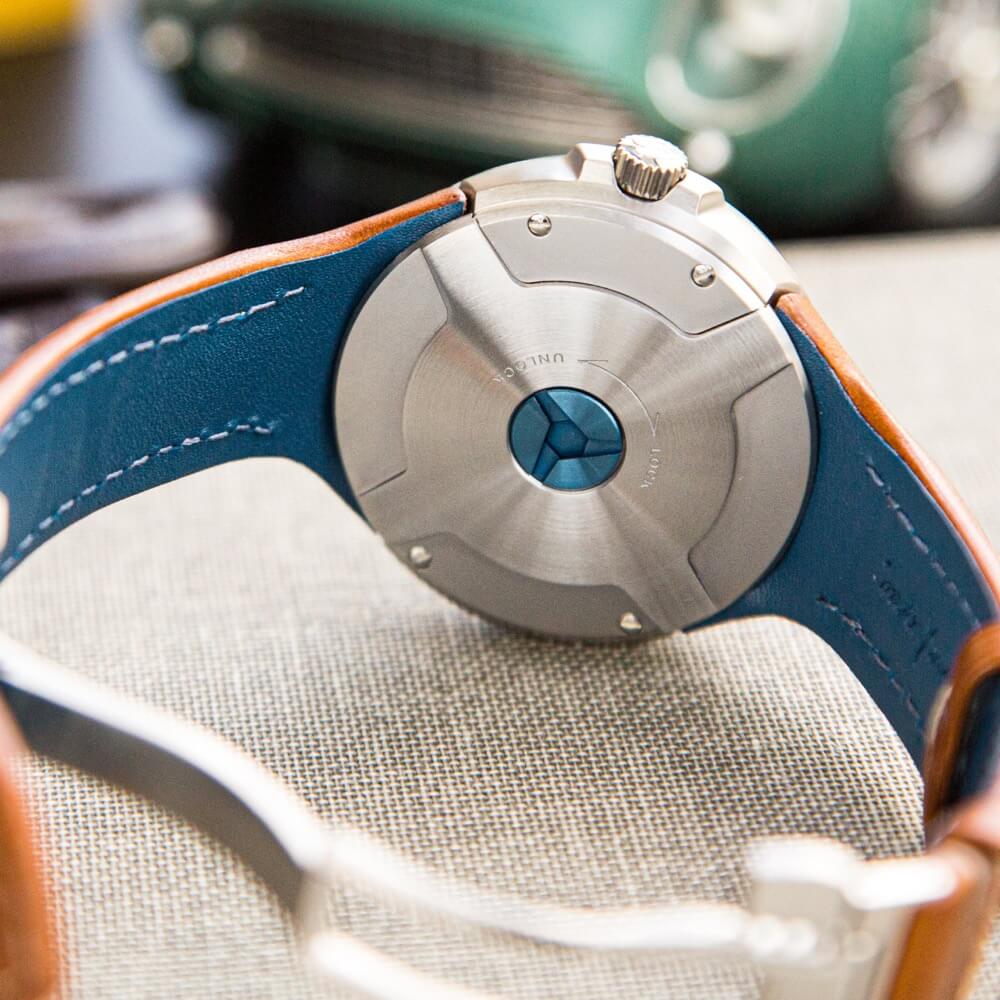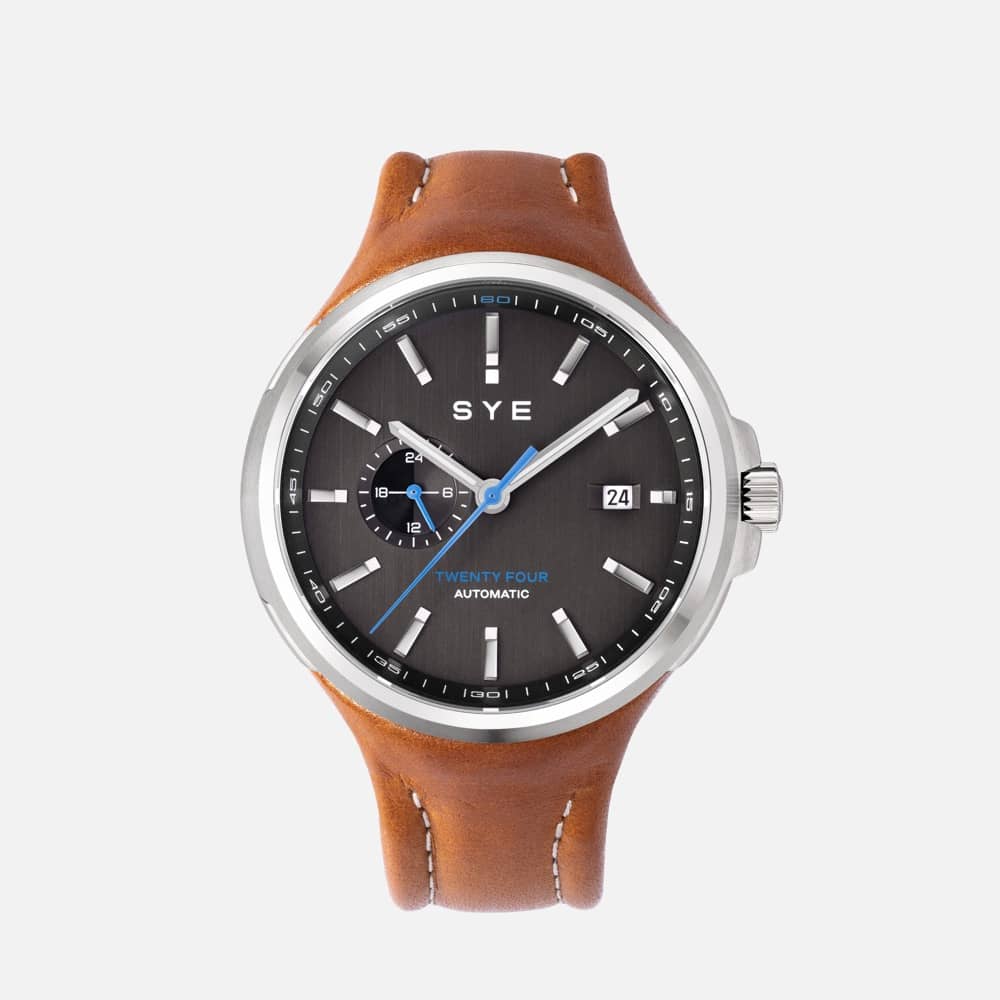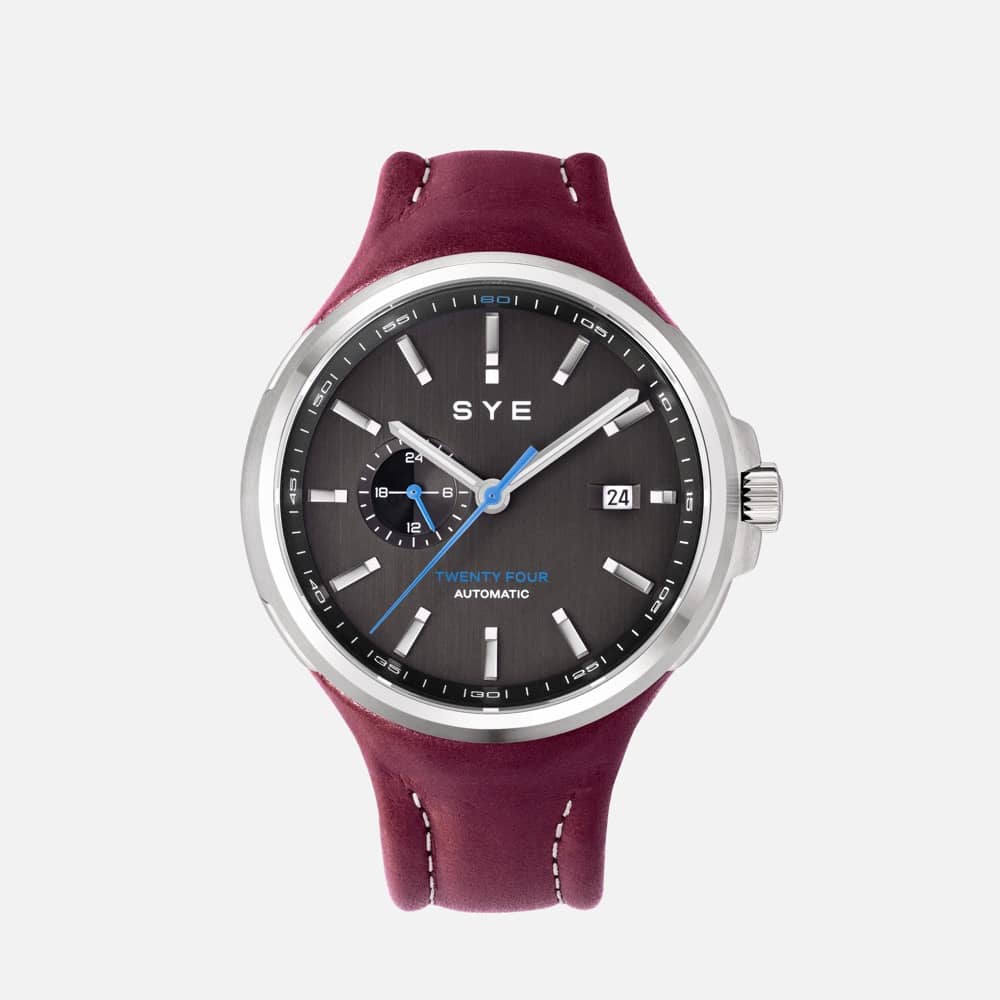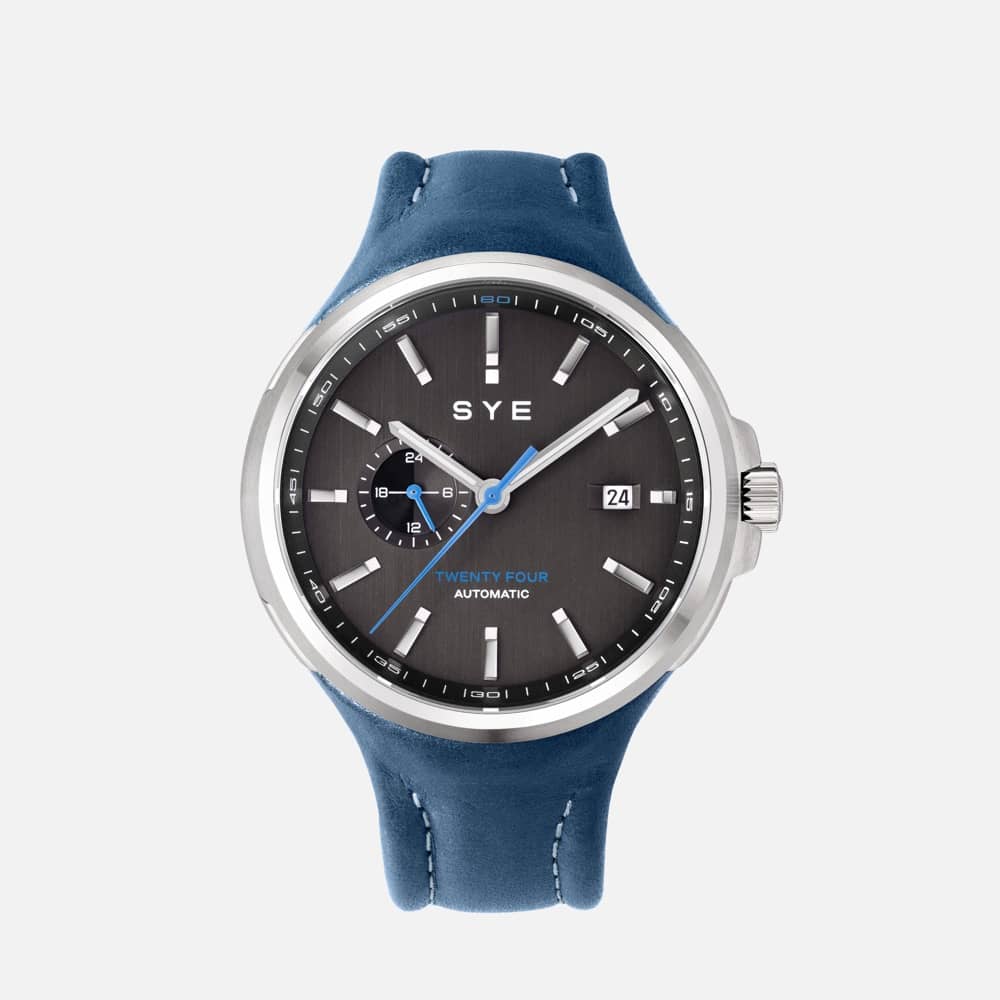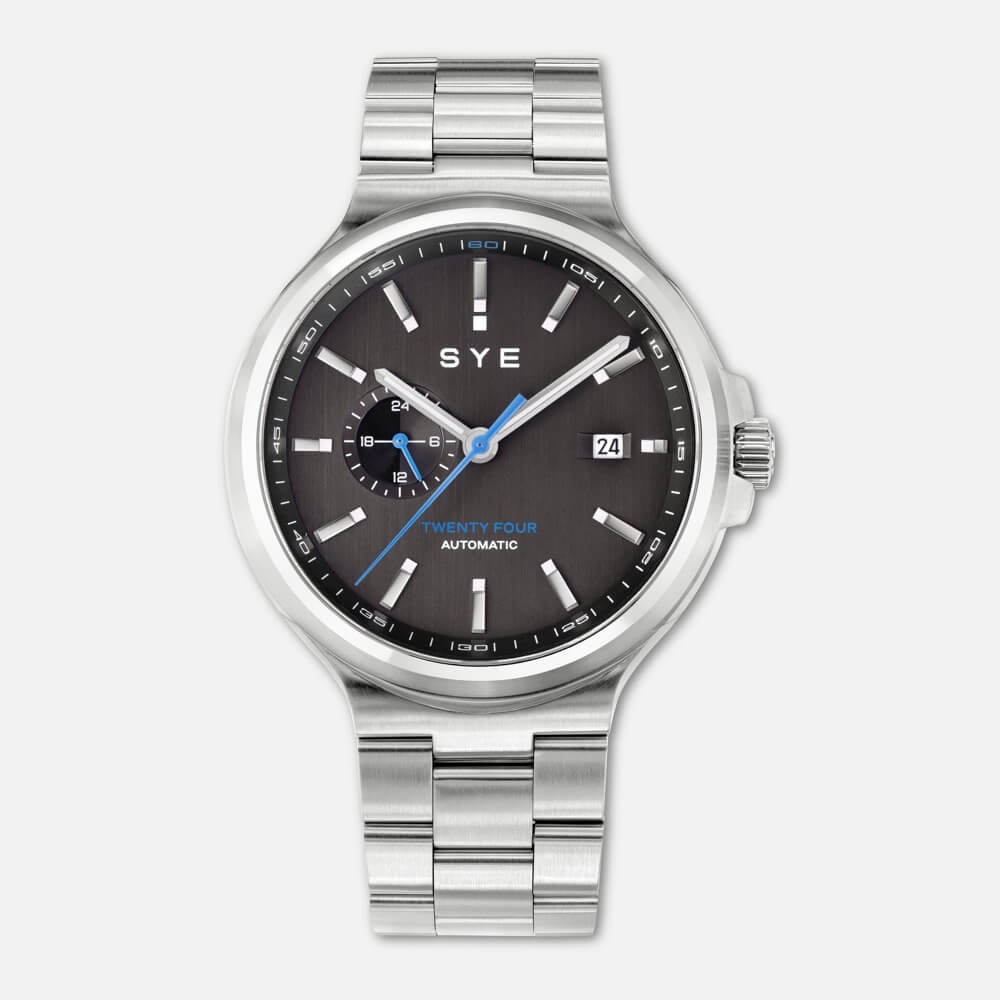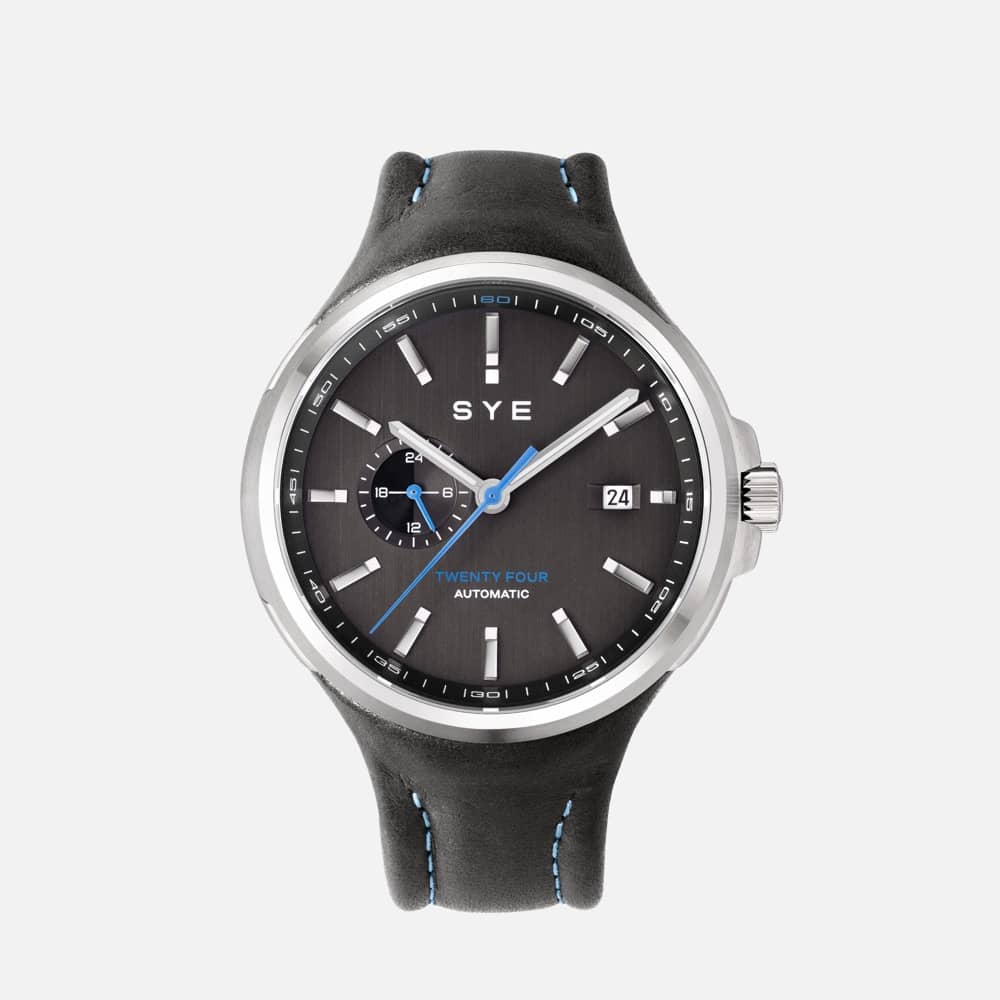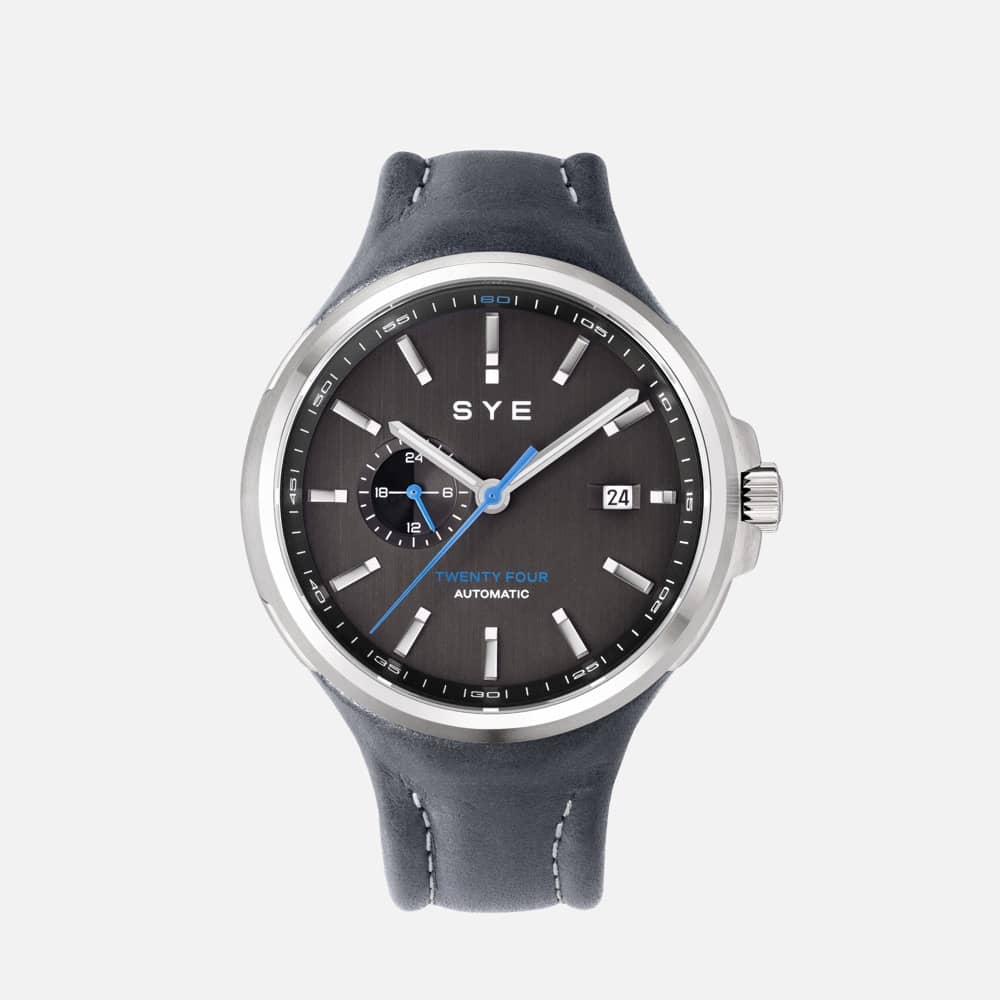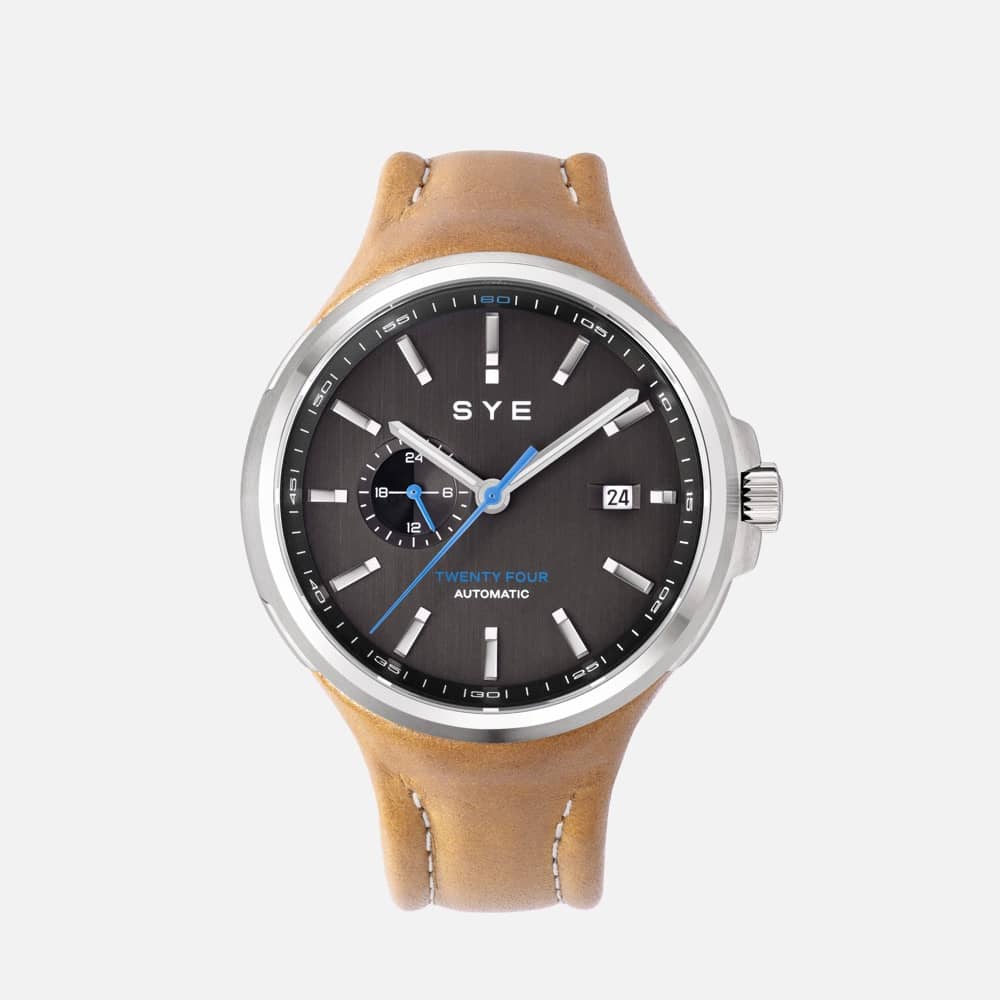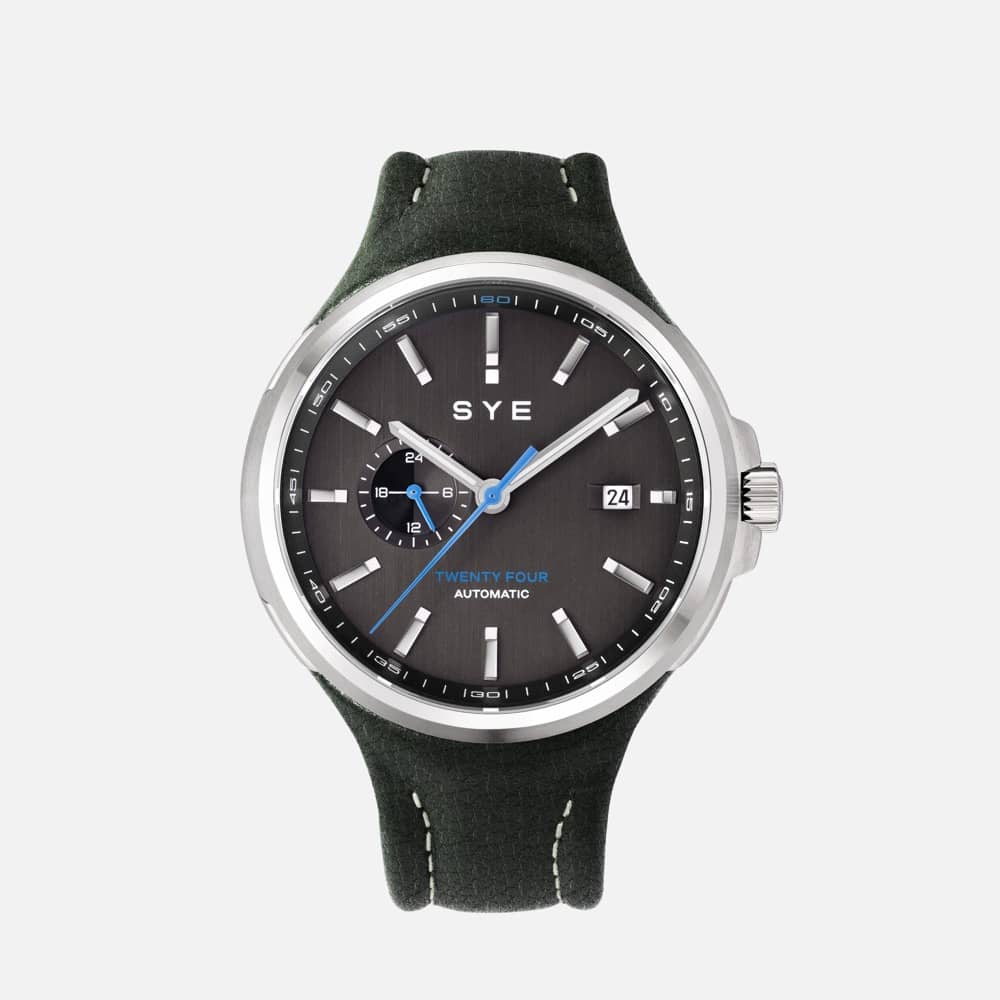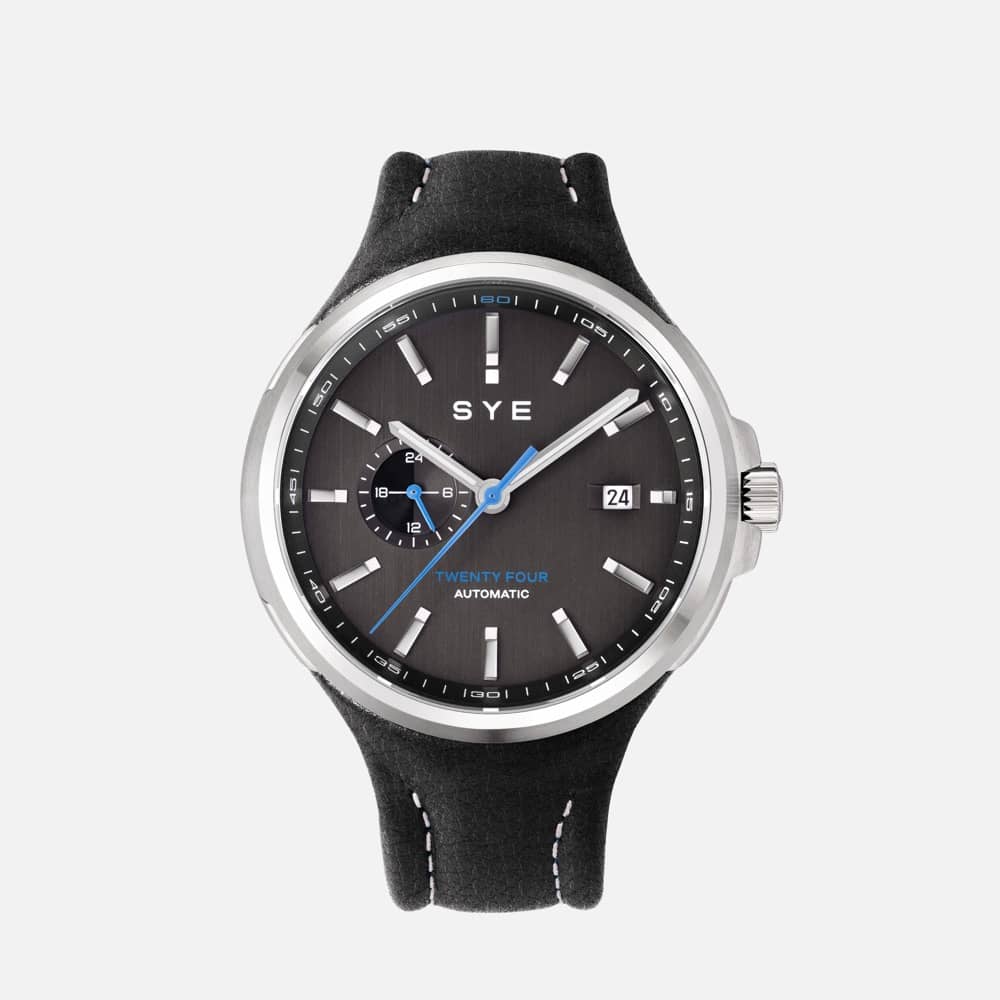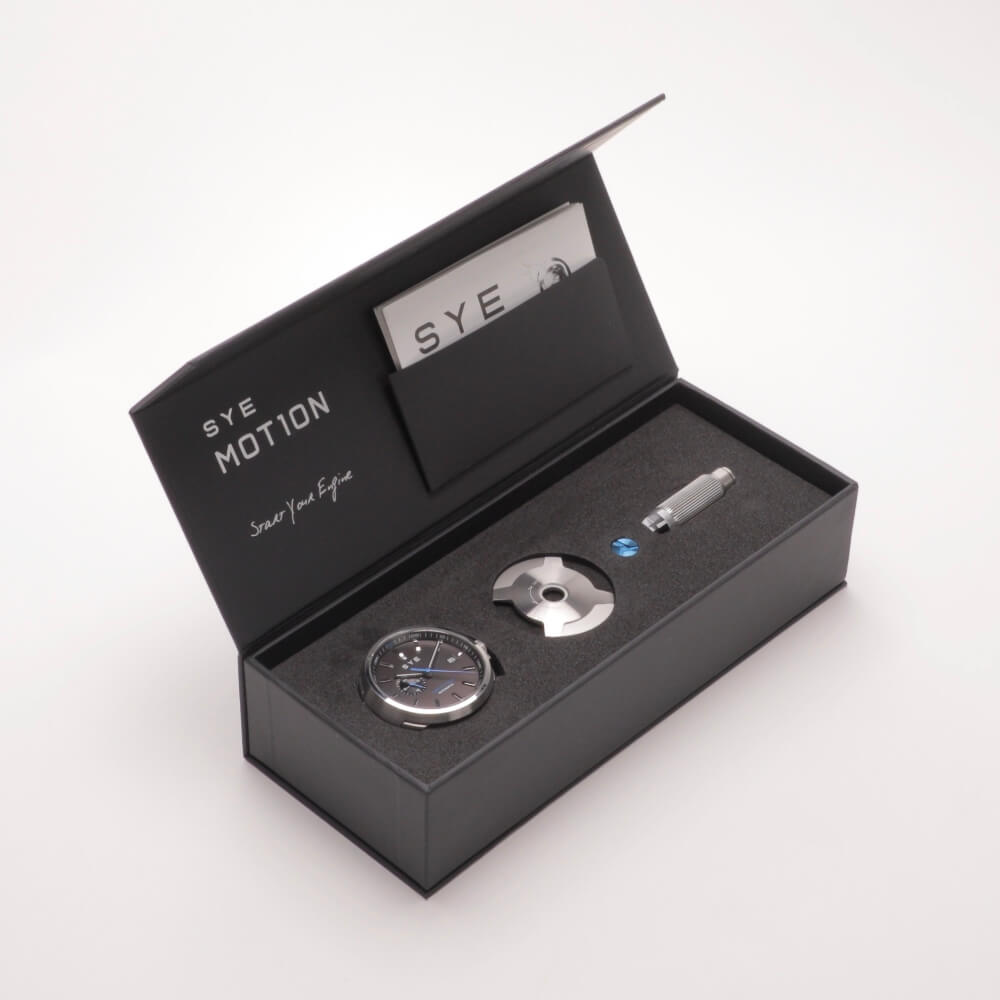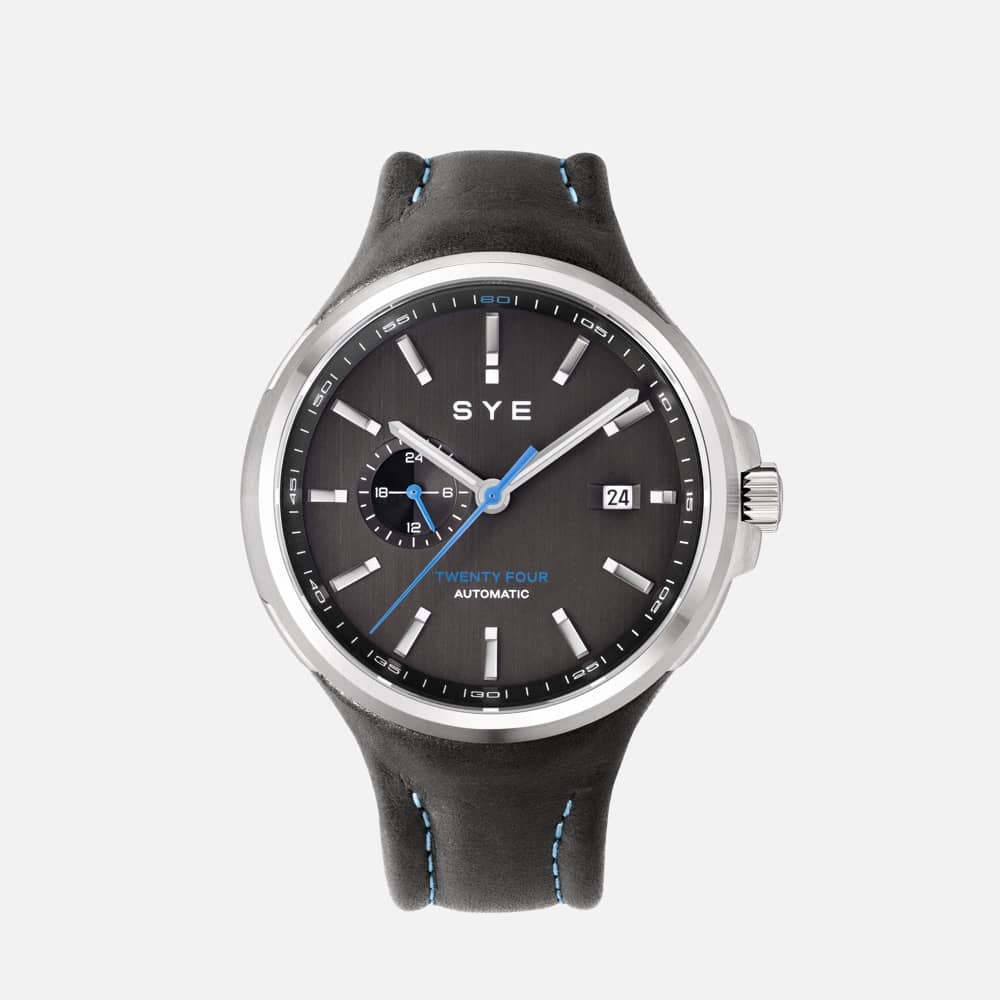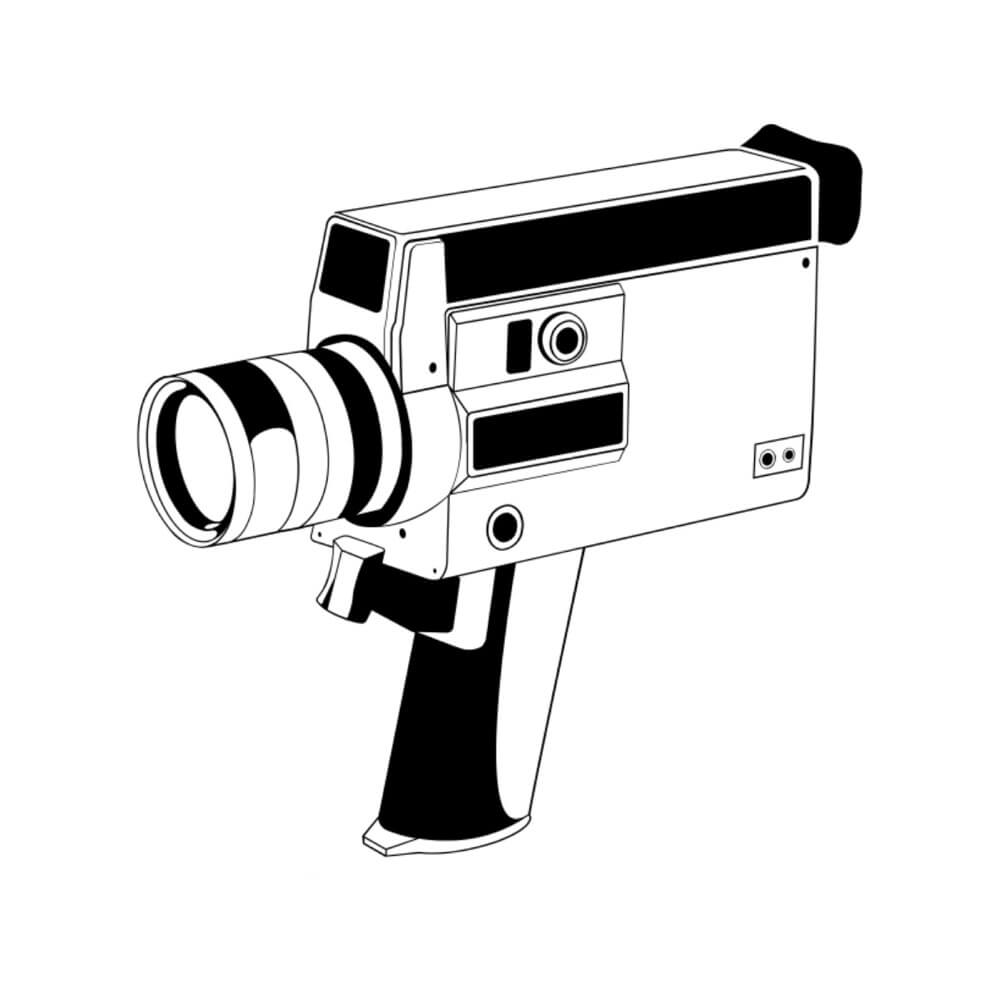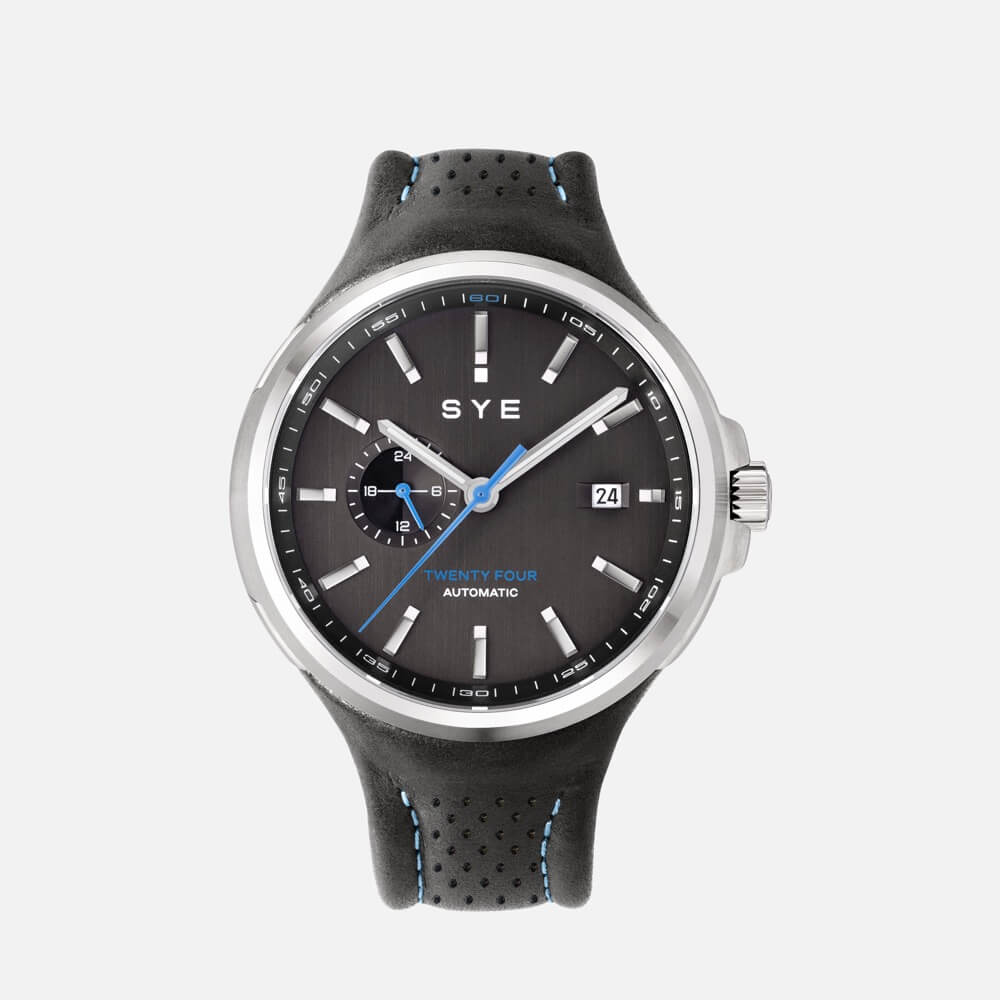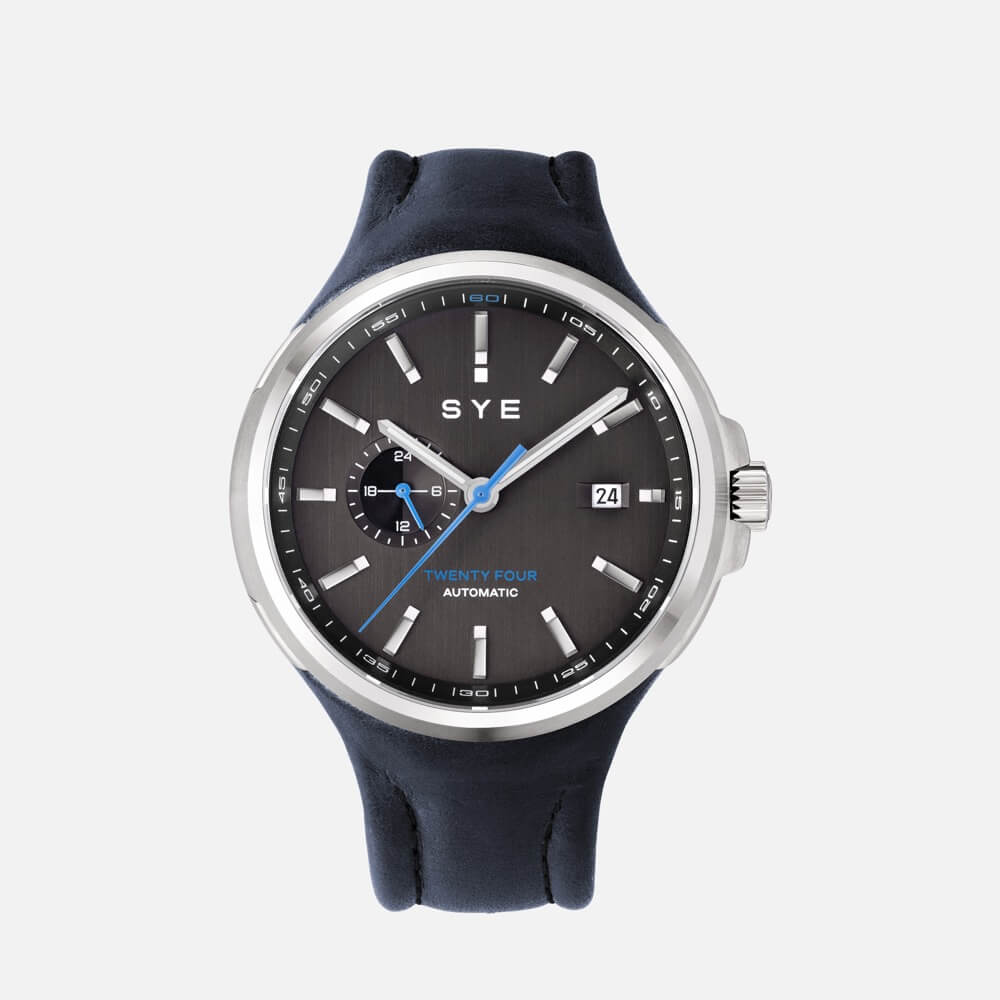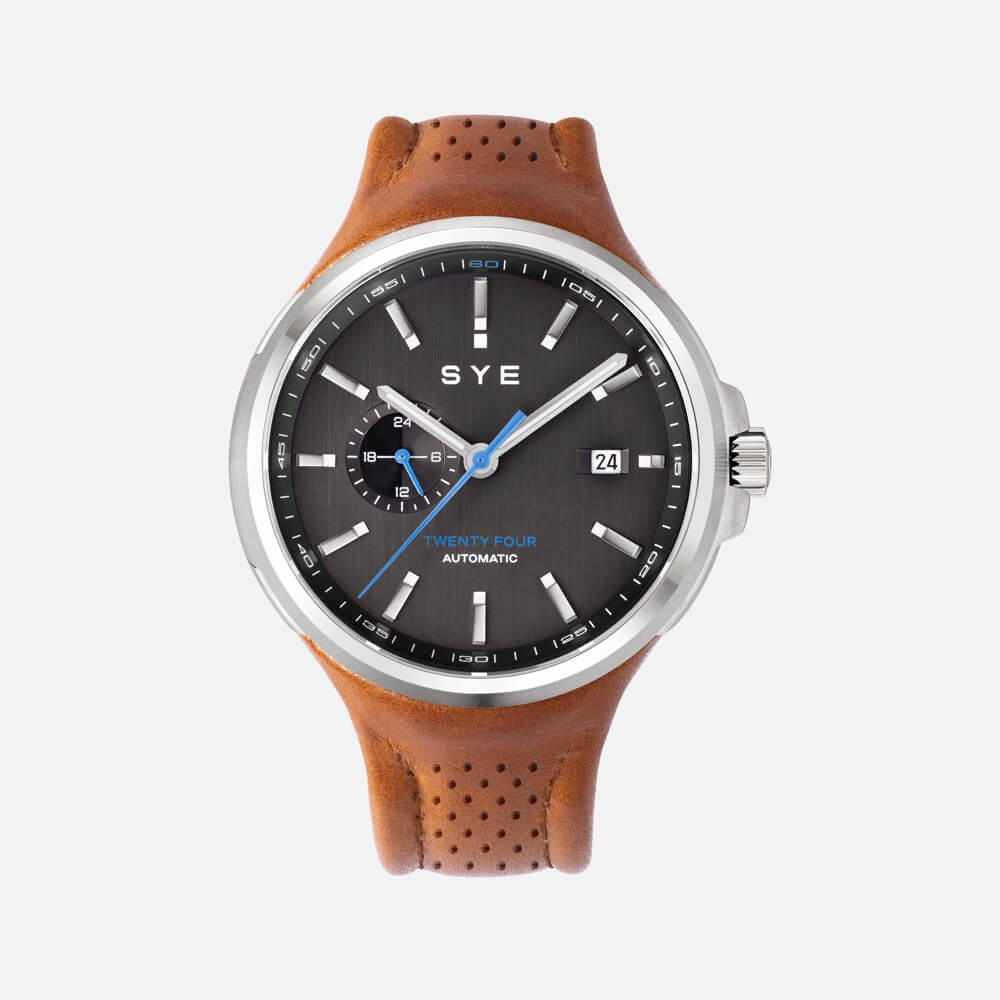 MOT1ON Automatic 24 [Black]
The SYE MOT1ON Automatic Twenty-Four wristwatch brings 'Sport Tailoring' to your wrist. Its exclusive style is a combination of refined and dynamic.
MOT1ON rose to the challenge of combining high-quality leather with a modern steel body for a unique overall look.
We cut no corners to achieve this – we simply used the best of everything to guarantee you strong sensations on your wrist.
Case material: Brushed Stainless steel (316L)
Diameter: 40.5 mm
Thickness: 13 mm
Glass: Sapphire crystal / Anti-reflect coating
Dial color: Vertical brush Black / Chocolate
Movement: Mechanical automatic Miyota 8217
Power reserve: 42 h
Water resistance: 50 m or 5 ATM
Functions: Hour, minute, Second, Date, 24h
Weight:

102 g (with leather strap)
155 g (with steel bracelet)
The warranty for SYE watches is two years from the date of shipment.
It does not cover any damage on any part of the watch resulting from abnormal use, lack of care, negligence, accidents, incorrect use of the watch and non-observance of the instructions provided by SYE [Start Your Engine].
You will find more information about our warranty policy.
We ship the orders daily from our HQ in Paris through our express logistic partners : GLS for Europe and UPS/DHL for the rest of the world.

Shipping is free for every watch order.

In France and European Union, customs and taxes are included in the price displayed on the site.

Outside the European Union, customs and taxes are not included, the buyer may need to pay them based on the local rules.

You will receive a detailed tracking at the major stages of the delivery.
Your satisfaction is our priority.
Items can be returned or exchanged within 14 days of delivery.
Returned items must be in unused conditions.
To start the return process, please fill this form.

In case of an exchange, SYE [Start Your Engine] will bear all the logistic costs.
In case of a return, the customer will have to send the item back at his own costs.
MADE IN FRANCE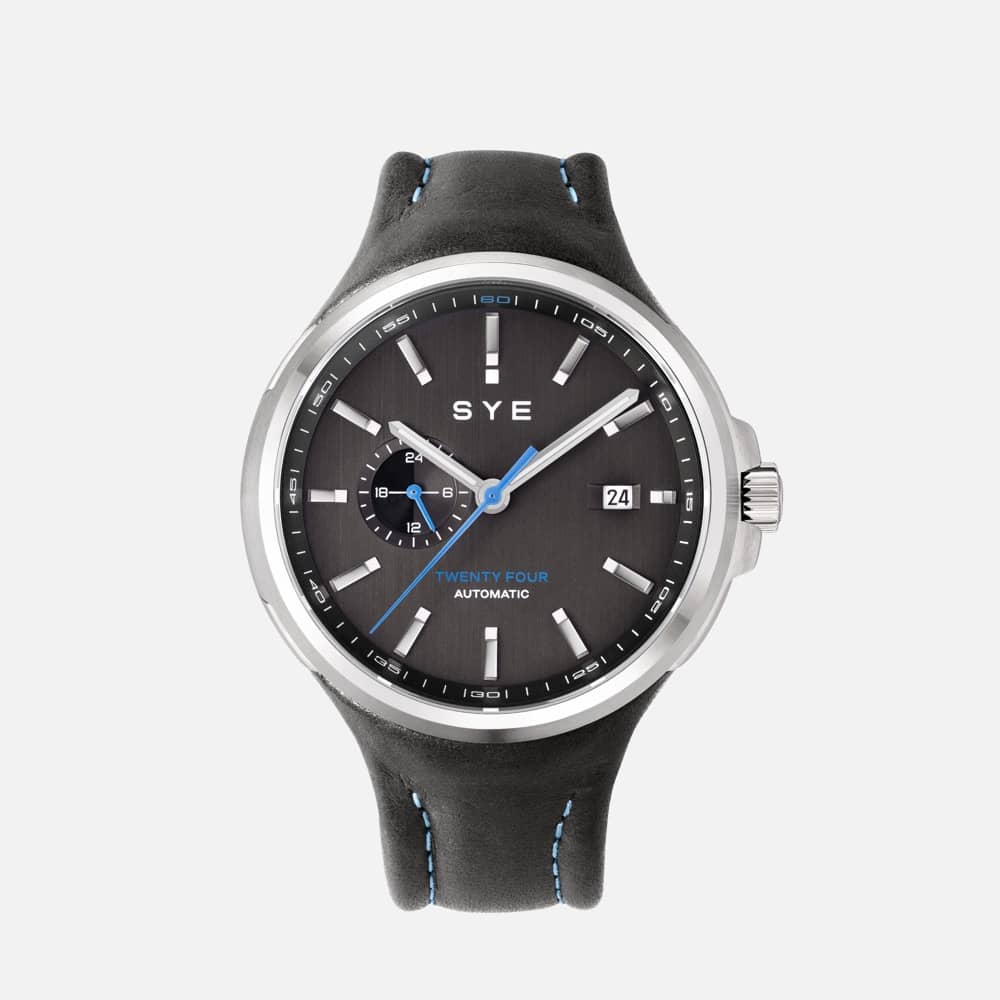 A SPORT-CHIC WATCH WITH A UNIQUE TWIST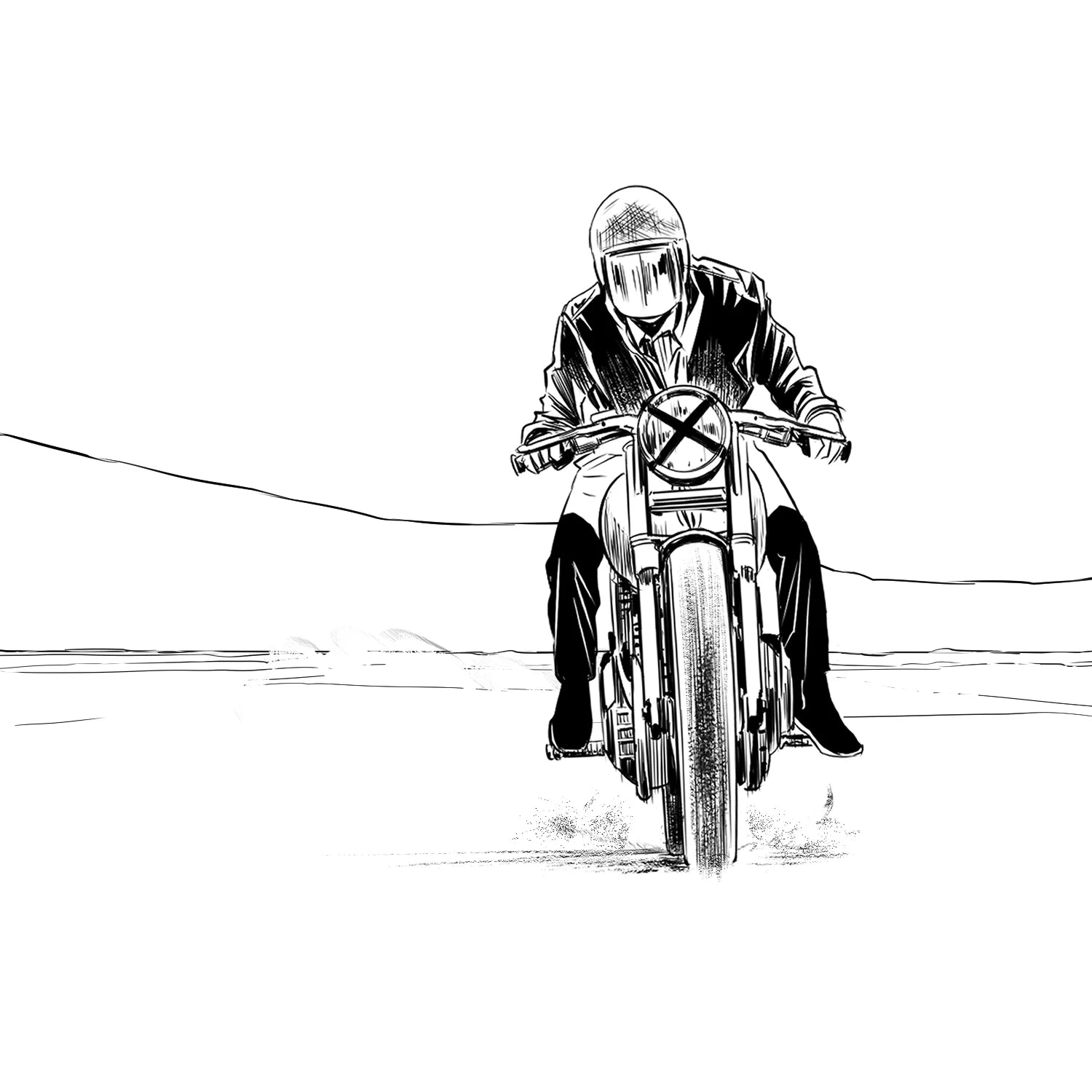 INTRDODUCING
MOT1ON Automatic 24 [Black]
This watch is part of the 4 foundation models that were originally launched in 2020.
The MOT1ON watch was born of its founders' desire to take the emotions that emanate from the touch of beautifully crafted speed machines and infuse them into something precious: an elegant, masculine new watch. These feelings were a source of inspiration that aided our search to bring the highest quality materials, savoir-faire and a fresh approach to 20th century design principles to an eloquent modern watch.

SYE has created a watch that is designed to endure the rigors of daily life, yet retains an elegant masculine profile, combining athletic style and bold design to bring Sport Tailoring right to your wrist.
Sport Tailoring is a combination of two fashions and two mindsets working together to create a style for men wanting to make statement. Sport Tailoring fuses athletic shapes and dynamic styles, with a focus on refinement and precision that has been immaculately woven into the DNA of the watch, right down to the last stitch. The end result is a new kind of elegance that is both modern and practical.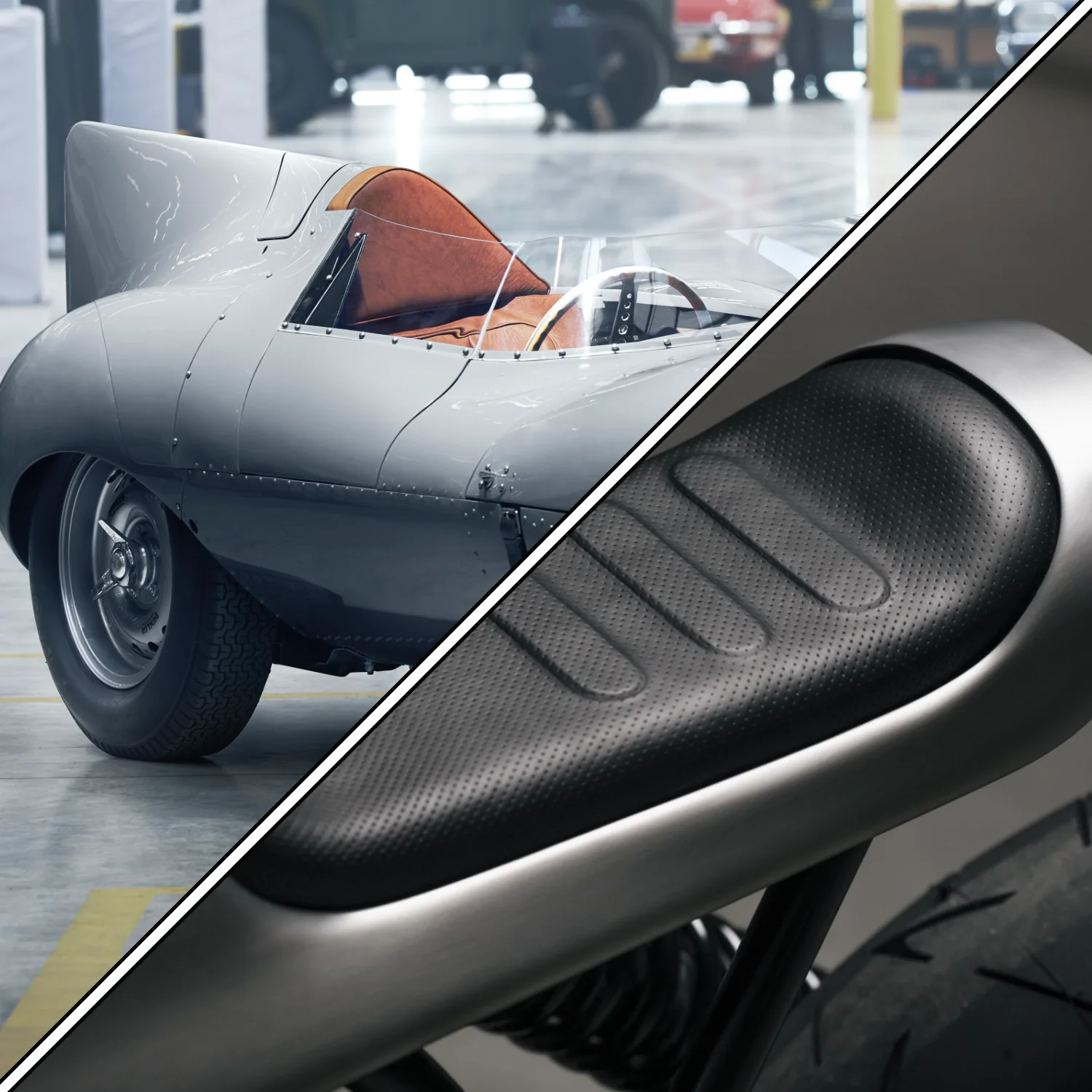 THE TIMELESS BEAUTY OF THE METAL/LEATHER COMBINATION
INSPIRED BY SAVOIR-FAIRE
In our quest for a unique timepiece, the inspiration made us look at materials, savoir-faire and modern design principles from a new angle.

The car/motorcycle scene is bursting with creativity and know-how.
Some workshops are capable of recreating the curves of a machine and fusing bodywork and upholstery to perfection.
This is the approach we wanted to adopt for our watches.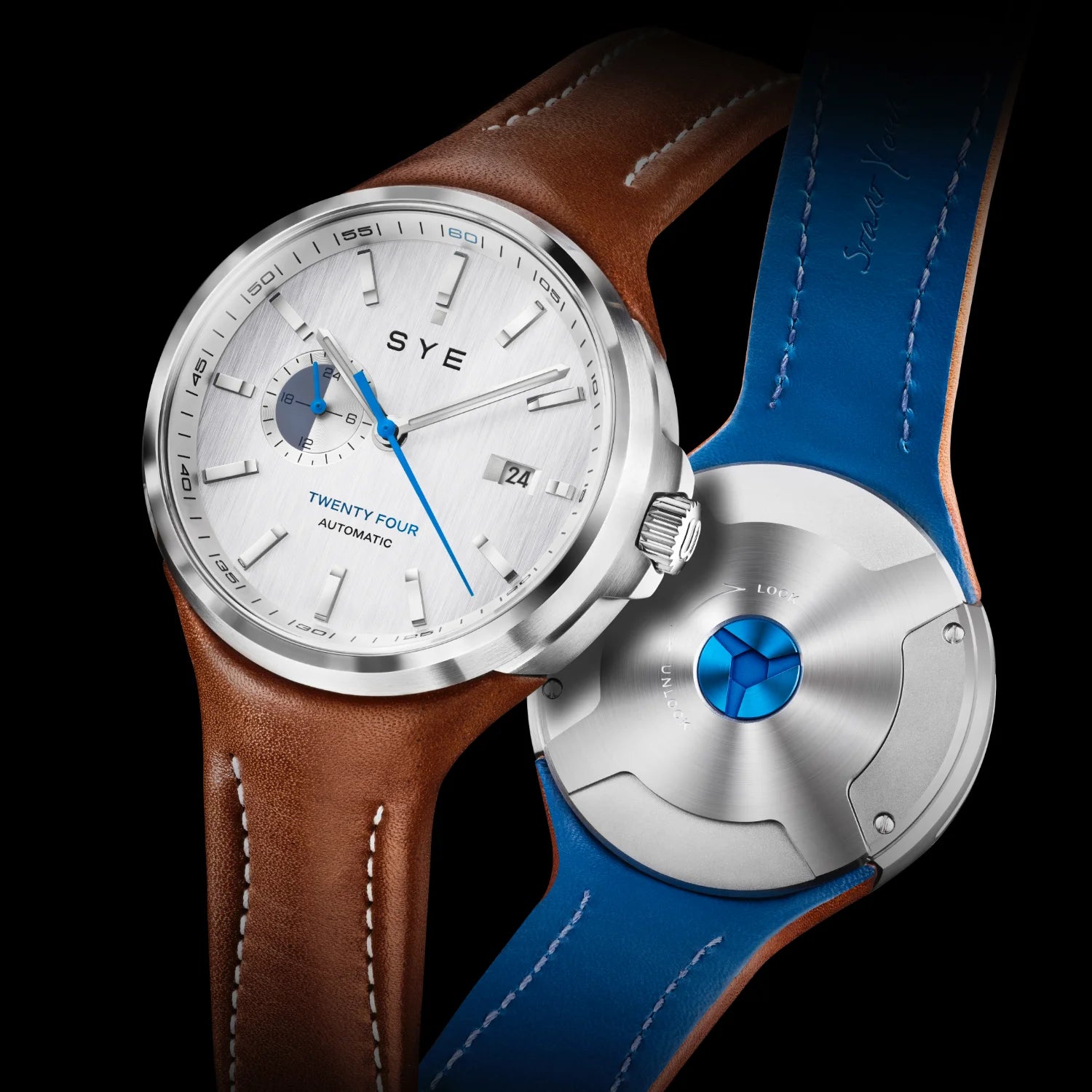 EXCLUSIVE DESIGN WITH
A STRONG PERSONNALITY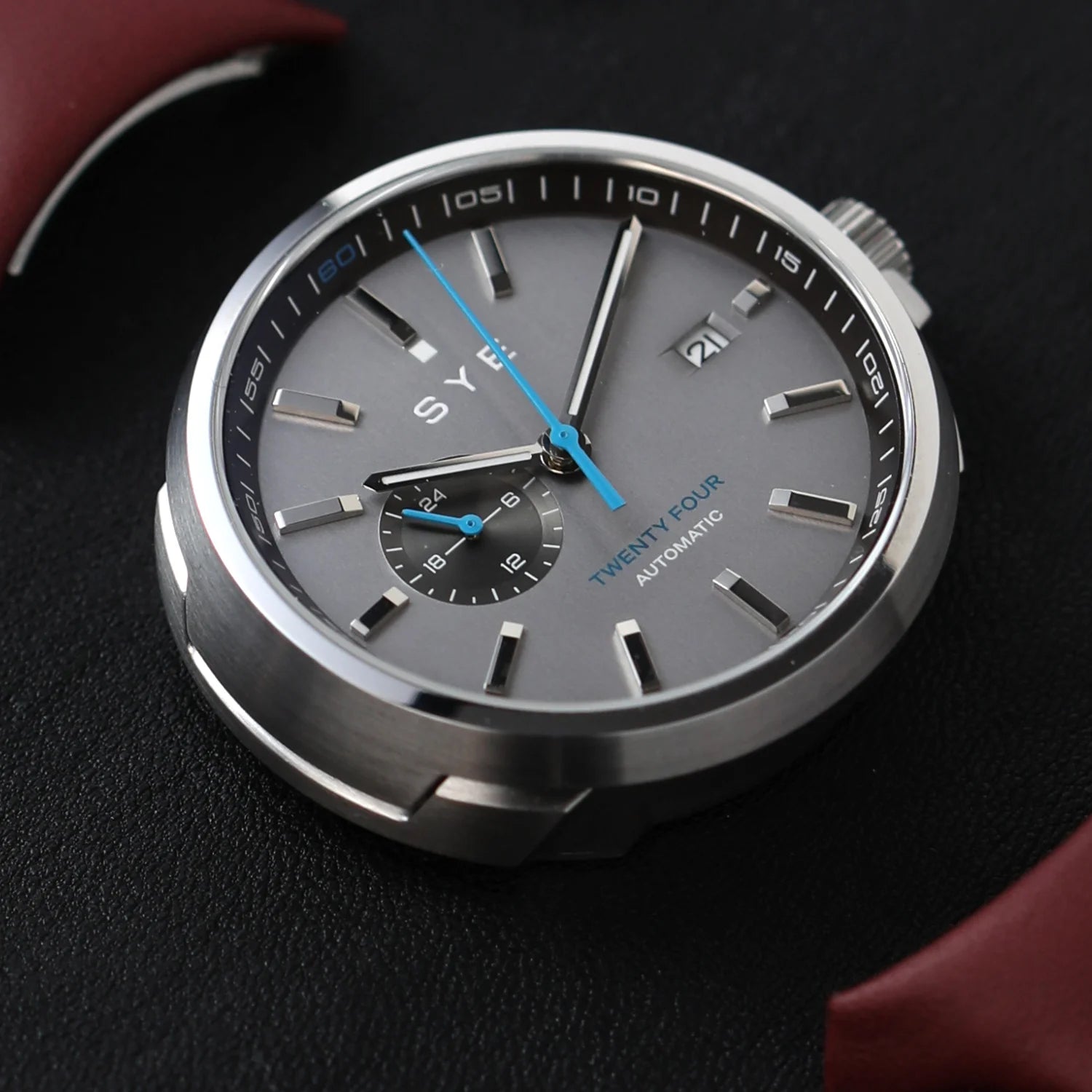 SPLENDID VIEW FROM EVERY ANGLE
WELL SCULPTED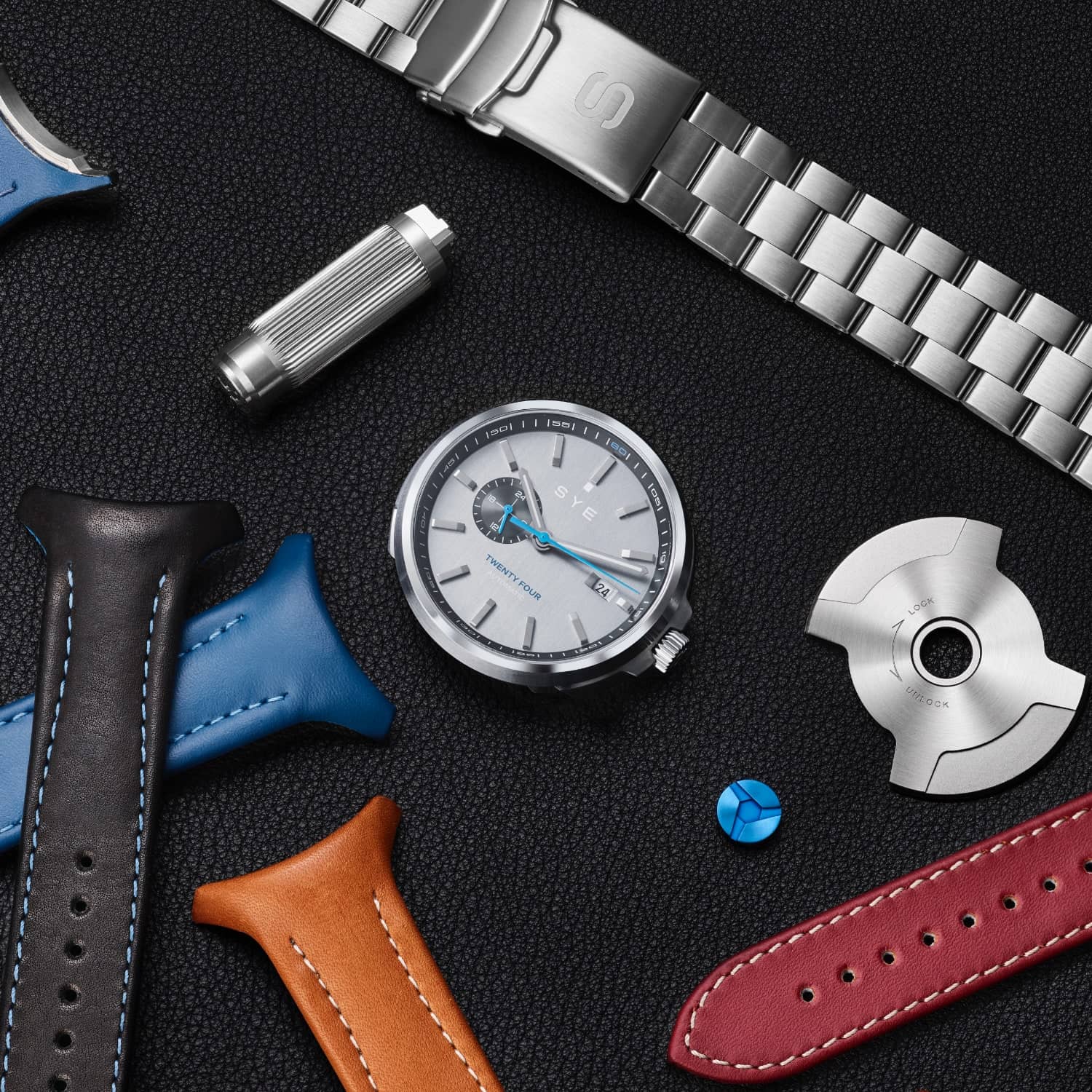 MECHANICAL SPIRIT IN EVERY WAY
PERFECT FOR GEARHEADS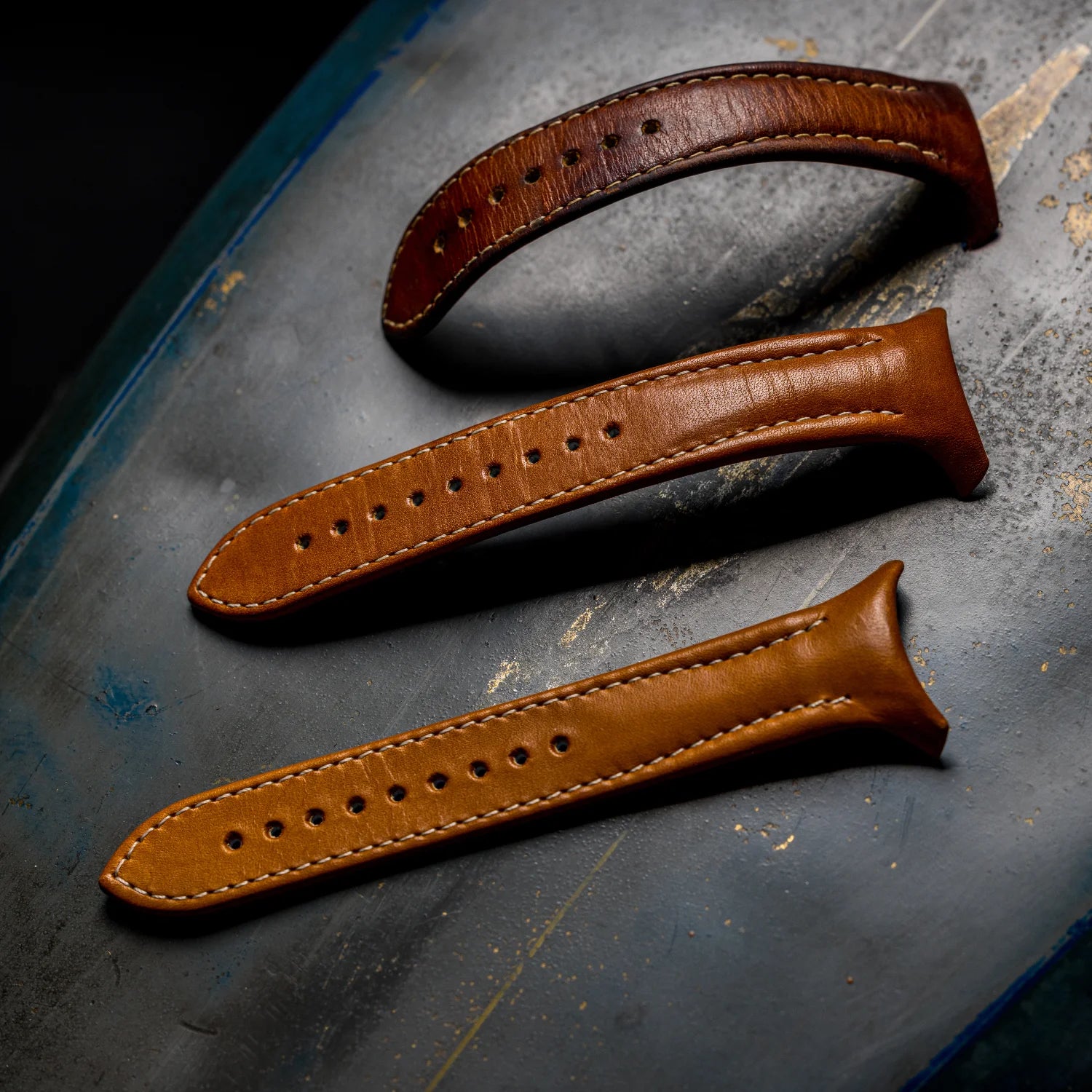 ENGINEERED TO LAST
FASTBACK™️ STRAPS
Taking its name from the dynamic shape of renowned carriages, the premium Fastback™ range that adorns each SYE MOT1ON watch is made primarily of French calfskin. Carefully chosen from French tanneries, it has unparalleled quality: soft, supple and able to acquire a beautiful patina over time.
Our French manufacture partner meticulously crafts the straps with a high-quality finish to ensure they fit your wrist perfectly.
We have taken every step to make sure your strap stays with you as long as possible - metal inserts seamlessly incorporated into the leather increase longevity and perfectly sync with the watch body. A folding deployment buckle maintains your strap's shape and protects it from marks. Want a proof? Our 1st prototype, at the top of the picture, still wears perfectly after 4 years!
The Fastback™ straps create an unmatched tailored style in a wide choice of colors of leather and metal to ensure your watch is personalized just for you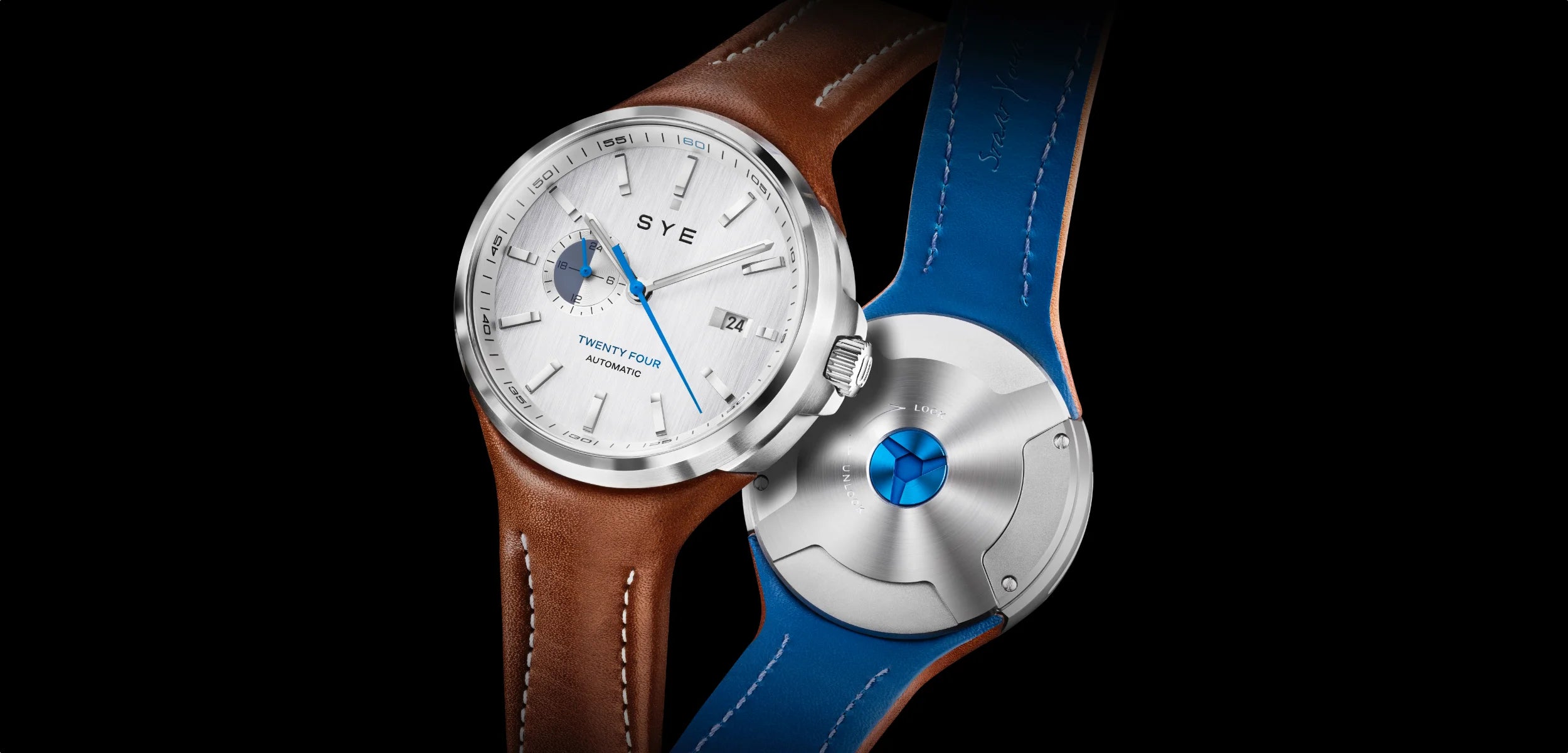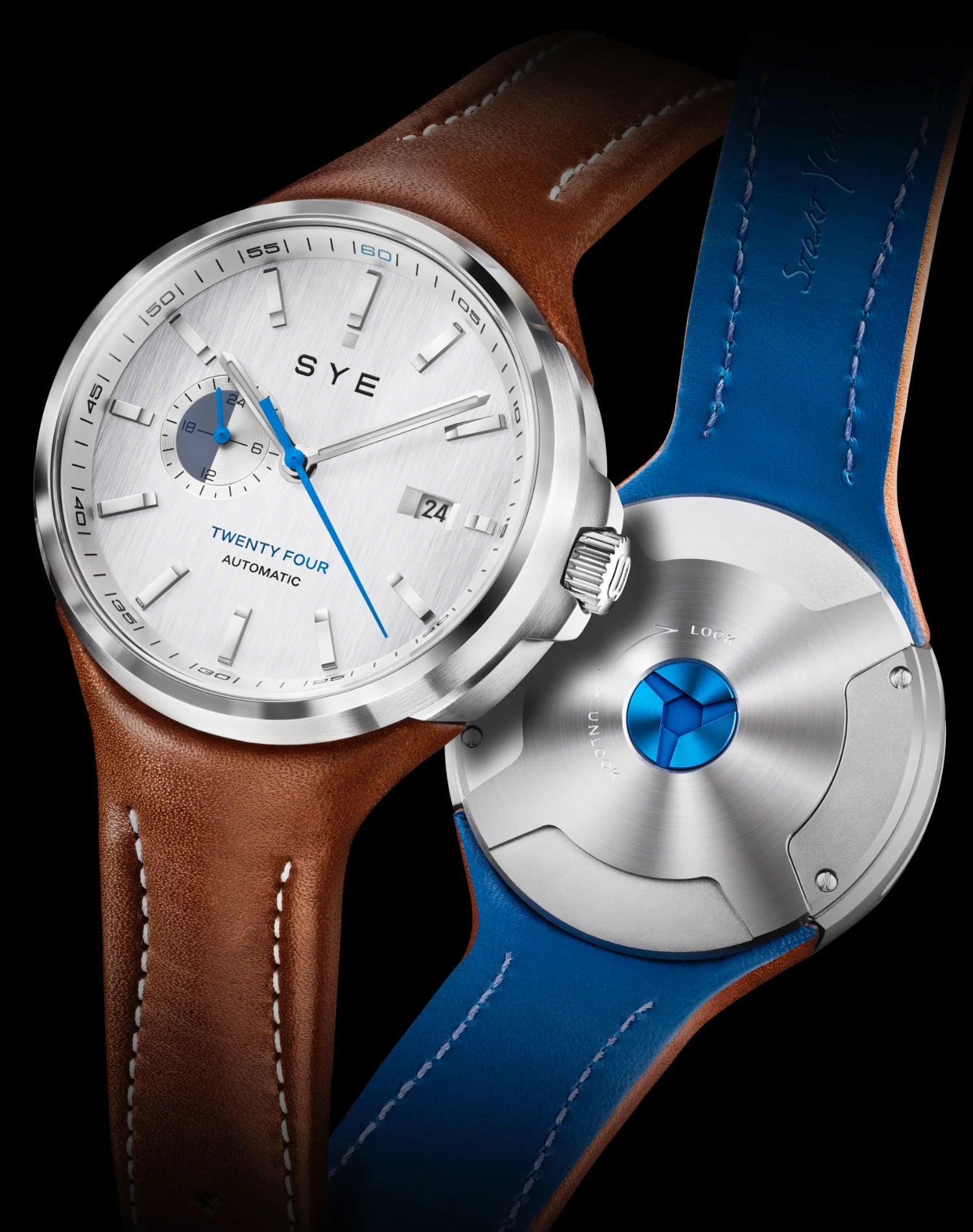 Fastback™ strap
Fascinating integration and premium construction for a very long time...
Dial
Vertically brushed, it's playing with light rays and display an always changing face.
Fastback™ system
The unique way to assemble your watch and your strap. It's as simple as playing with Meccano.
On top, it will avoid you creating scratches on your case.
Signature lining
All our straps wear a SYE blue lining.
It's eye catching but, most importantly, extremely resistant to sweat.
Sub-dial
Every sub-dial is brushed by hand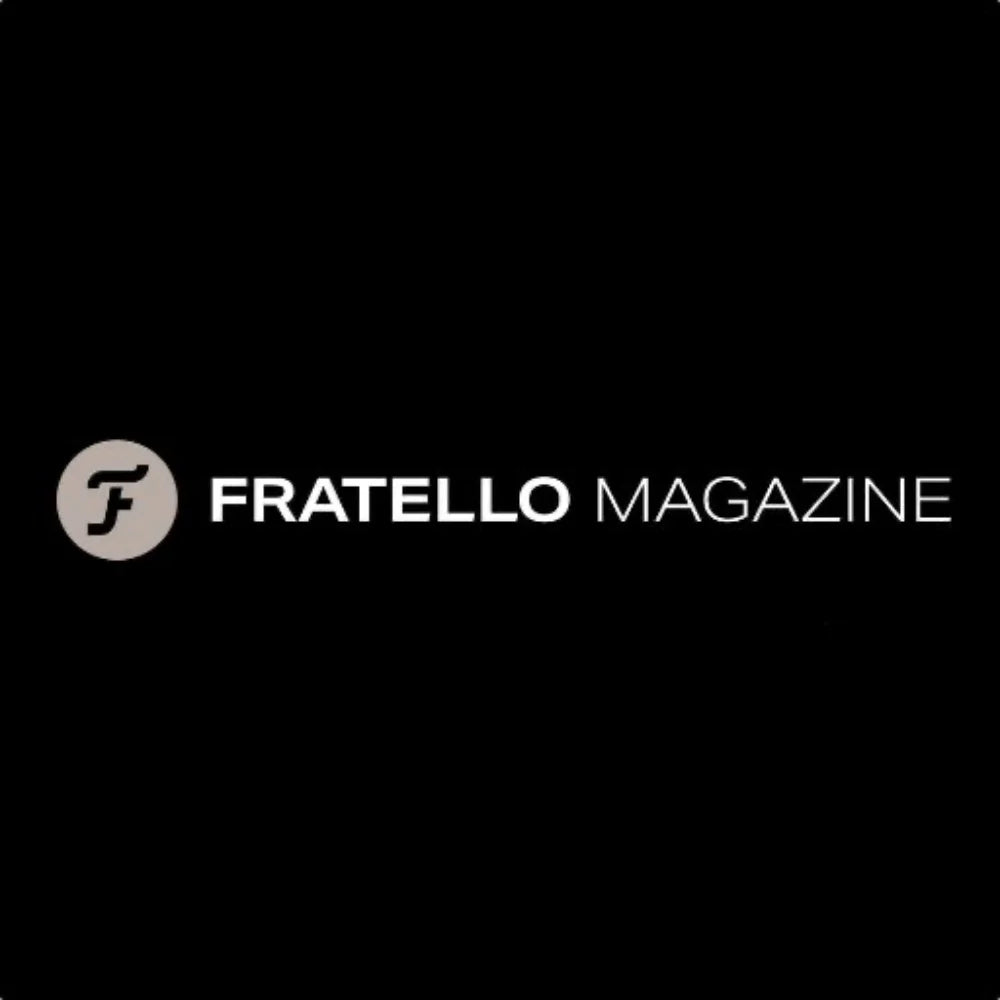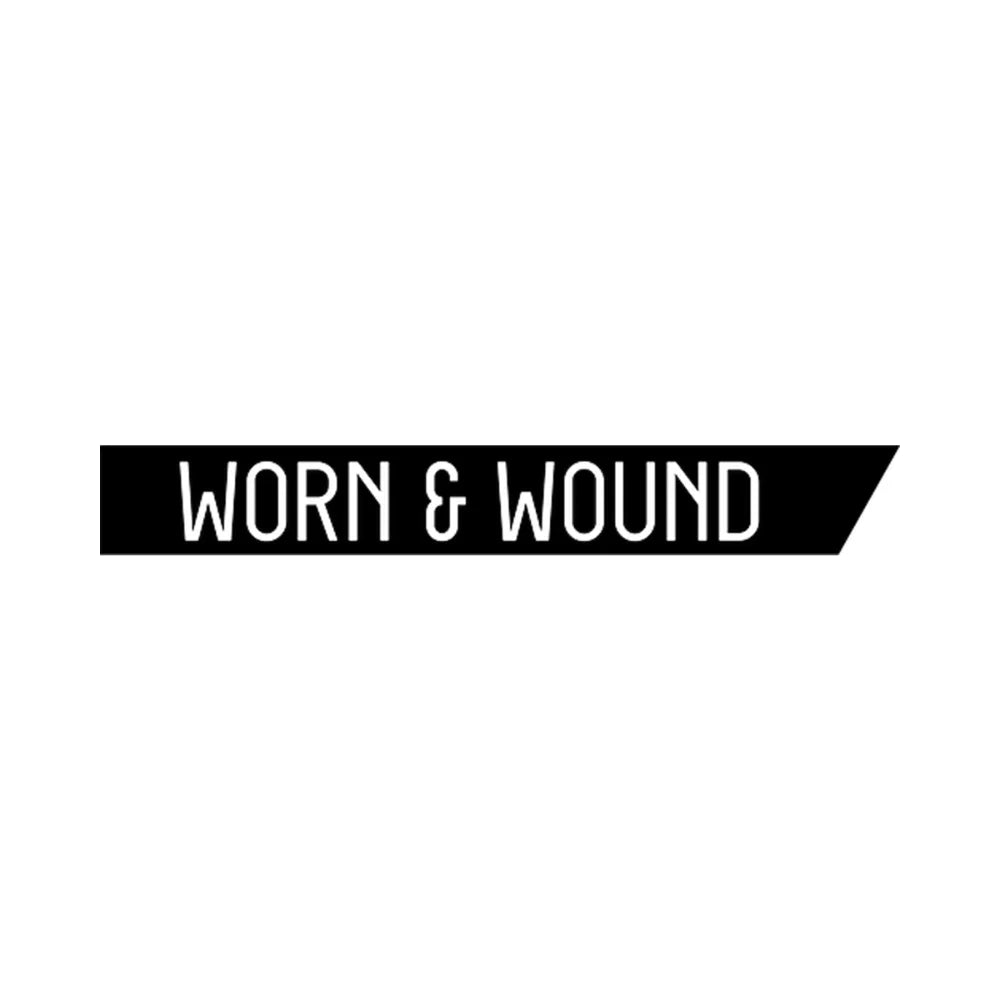 Engine of elegance
MONTRES HEROES
"SYE is betting on innovation and high-end finish to seduce customers looking for a new watchmaking experience.
The bet seems to have paid off!"
They are a fantastic value
WORN & WOUND
"The watch head has some unique details that give it personality, but the strap itself is what really impressed me. It's a complex and high-end construction that could cost as much as the whole watch itself if a luxury brand made it. As someone with some experience in making leather straps, it really impressed me."
One of the more streamlined and aesthetically satisfying results
FRATELLO
"The watch hit me in [...] "the feels". The crispness of the dividing lines between the finishes gifts the SYE MOT1ON with a superb character. This piece looks fantastic."
Read
PRODUCT SPECIFICATIONS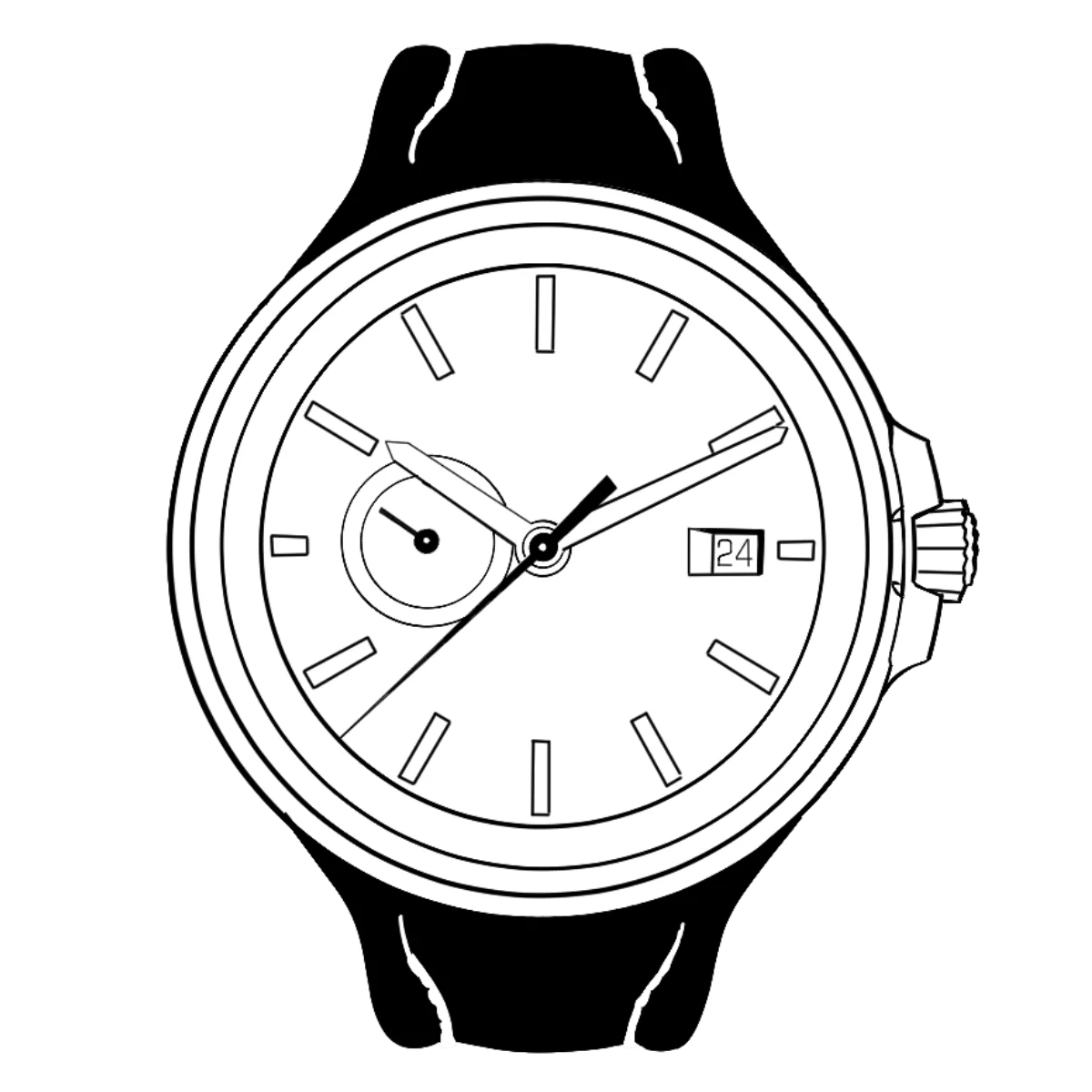 Sport-chic watch with a unique personality
WATCH CASE
Material: Stainless steel (316L)
Construction: 5 elements
Finish: Brushed
Fastback™ compatible: Yes
Diameter: 40.5 mm
Thickness: 13 mm
Water resistance: 50 m or 5 ATM
Weight:
102 g (with leather strap)
155 g (with steel bracelet)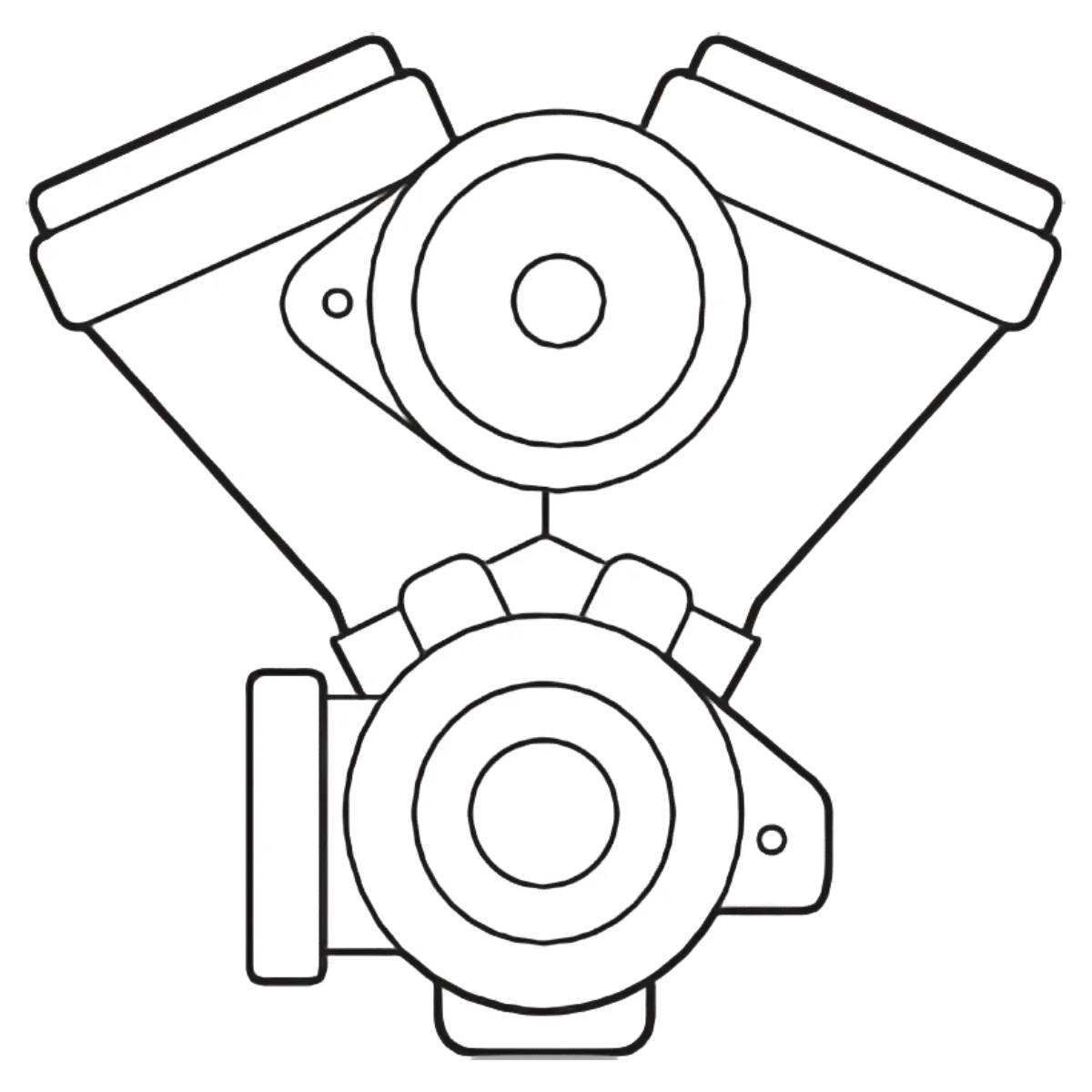 Precise and reliable engine
MOVEMENT
Movement type: Mechanical automatic
Caliber: Miyota 8217
Power reserve: 42 h
Frequency: 21 600 alternances / hour (3Hz)
Jewels: 21 jewels
SCRATCHPROOF GLASS
Crystal: Sapphire crystal
Treatment: Anti-reflect coating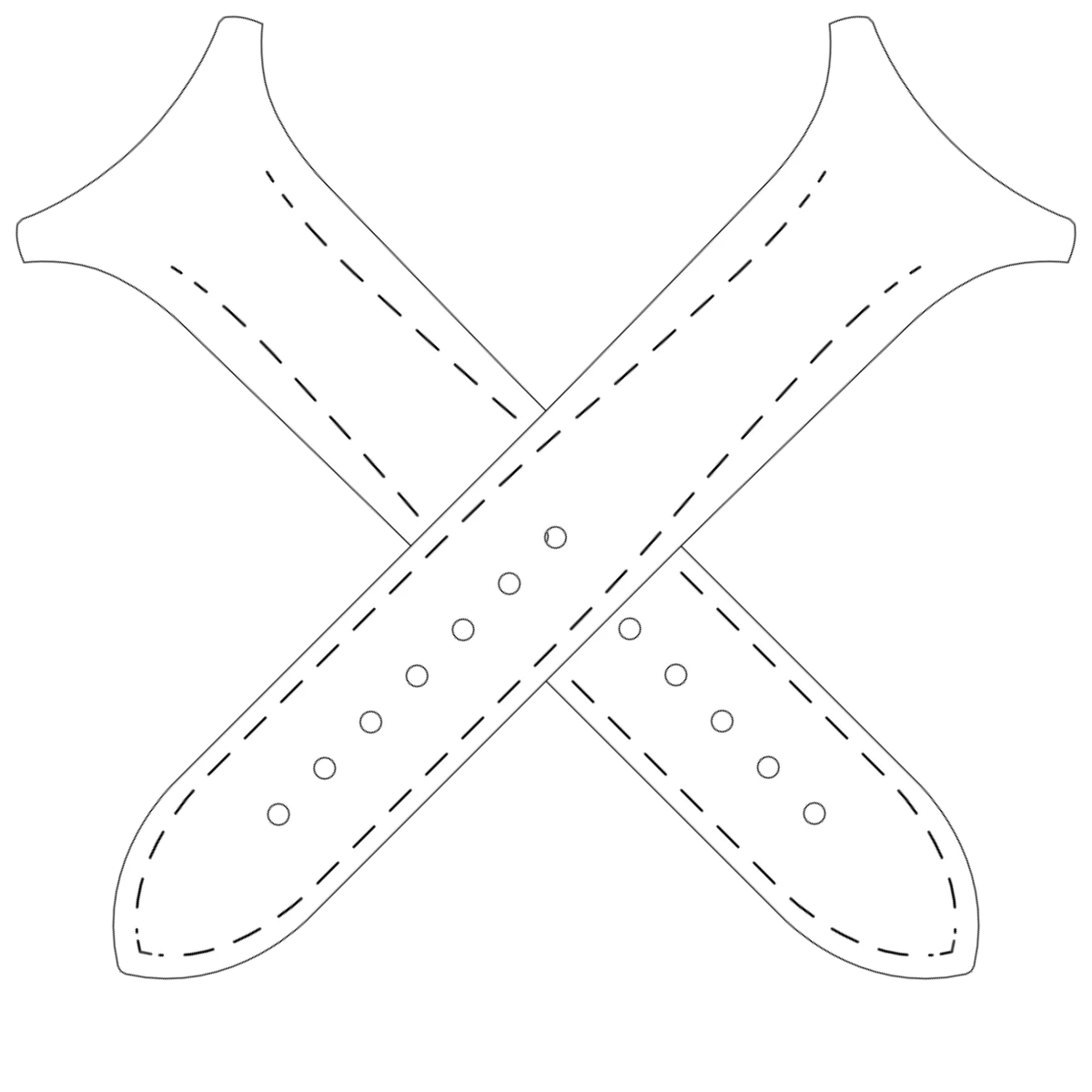 Straps engineered to last
FASTBACK™ STRAPS
Available options: 14 straps possibilities (as of today)
Material: Leather or stainless steel
Insert: Stainless steel (316L) insert for durability
Buckle: Folding clasp
Wrist size: Fits wrist sizes from 15 to 20 cm (leather strap) from 16 to 23cm (metal bracelet)
Length: 120/80mm (long/short strap)
EXTRAS
Origin: Made in France
Warranty: 2 years international warranty
Numbered watch: Each watch is numbered
USE '1FASTBACK' CODE AT CHECKOUT
-20% ON THE 2ND STRAP