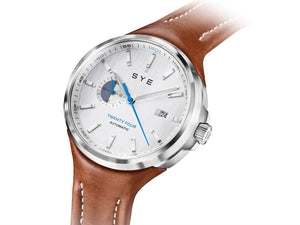 A strong personality
Exclusive design from Paris
MOT1ON is an exclusive watch that combines a high-quality leather strap with a modern steel body in an innovative, eye-catching design.
At launch, you'll have the choice between 40 different MOT1ON liveries combining 2 models with 2 dials each and up to 10 different straps.... for the moment.
No doubt, that on your wrist, the watch will show its unique personality in a way that will leave nobody indifferent.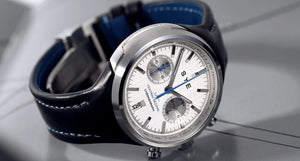 Well sculpted
An obsession for details
Set within detailed etched lines, similar to a beautifully designed engine block, beats the heart of the SYE MOT1ON watches.
2 watches that share the same DNA but tick at a different pace : MOT1ON Automatic Twenty-Four moves with a mechanical automatic movement while MOT1ON Chronograph combines quartz precision with a familiar mechanical tick.
MOT1ON boasts a solid stainless steel body made up of five mechanical components to fill it with sophistication and character.
The impeccable finish carefully balances between brushed, polished and bead-blasted touches.
For a perfect view of the dial, MOT1ON watches are protected by scratch-resistant sapphire crystal with an anti-reflective coating.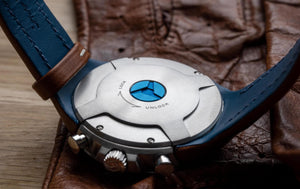 Fastback™ system
A unique experience just for you
When we designed the Fastback™ system, the specifications were clear, it had to be reliable, practical and playful!
Underneath the MOT1ON watch you can find the Fastback™ system – a central screw and a hubcap-style back that let you swap out your strap with ease. With a few simple twists of a tool, you can remove the back, change the strap, and you're good to go!
No doubt about it, MOT1ON has enough junk in its trunk to bring back childhood memories of playing with Meccano.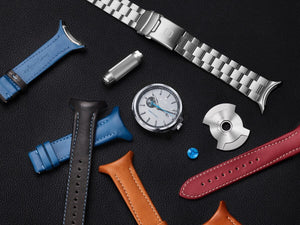 Fastback™ straps
Luxury straps made in France
According to our French strap manufacturer, the Manufacture Jean Rousseau, the Fastback™ strap is among the most sophisticated straps in the world and it's ingeenered to make sure it stays with you as long as possible.
We selected only the best leathers. Especially, the French NovoNappa leather sourced from the tannery Haas, part of Chanel group.
Our straps are made from unparalleled quality leather – soft, supple, and able to acquire a beautiful patina over time.
The classical case reveals tons of refined details at first sight like the « amphitheater » flange around the dial or the leather strap that perfectly fit into the case.
MOT1ON proposes an interesting and original concept of integrated leather strap into a stainless steel watch case.
SYE for Start Your Engine. An innovative watch brand, that engine lovers will appreciate. Fastback™ system and Meccano attitude are part of the deal.
SYE MOT1ON, a watch with a strong personality, available in 2 versions. This watch has a significant number of strengths.
The watch hit me in [...] "the feels". The crispness of the dividing lines between the finishes gifts the SYE MOT1ON with a superb character. This piece looks fantastic.
Set within detailed etched lines, similar to a beautifully designed engine block, their first creation called MOT1ON put dynamic and very contemporary shapes on display.